At Five Star Vacation Rentals, we've got a lot of great properties to choose from in some of the most desirable locations. Big Bear is our most popular destination. This time of year it's a skiers paradise with Bear Mountain and Snow Summit, two of the best skiing resorts in the western United States.
But Big Bear has always been a popular destination in every season. Big Bear Lake is well stocked with bass, trout and catfish. Winter fishing is amazing if you dress warm enough. And in every season, many guests have the delightful experience of enjoying the freshest of fish dinners after a relaxing day of fishing on the lake. Opportunities for this kind of activity are very limited in most of our lives and can become wonderful family bonding memories that last a lifetime.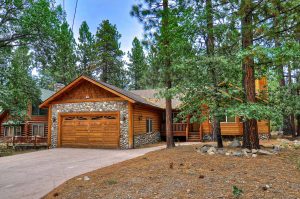 For the skiers, we have several properties adjacent to the slopes. There are few more delightful experiences for the avid skier than to roll out of bed, grab a quick breakfast, and walk a few minutes to the slopes. Our Cabin 9 is a great choice for skiers. With 4 bedrooms and 2.5 baths, there's roof for 11 guests and you'll be a 200 yard walk from the slopes. A day on slopes followed by an evening in luxury is a pretty good experience.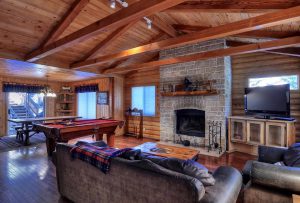 Our Cabin 1 is also a quick walk to the slopes. It has room for 13 guests in its 4 bedrooms and 3 baths. Just roll out of bed, smile at your very pleasing surroundings, grab a quick cup of coffee, and hit the slopes. Maybe breakfast, maybe not, maybe just a quick cup of yogurt. For many of us it's not a tough call when you can be on the slopes early without worrying about parking. And after the slopes, your can look forward to the very comfortable surroundings found at your Five Star Vacation Rental. Big Bear Village is a short drive away if you want to grab a good meal or do some shopping.
Book online and check out our Big Bear cabins and estates at this link.  Or give us a call at 310-780-3411, and we'll help you choose a great property for your perfect getaway.  And if you'd like to explore any of our other destinations, you can be assured that we're committed to providing top quality cabins, estates, and condos for your next vacation getaway.  We have offices in Newport Beach and Big Bear. Here are links to our properties in Nuevo Vallarta and La Quinta.