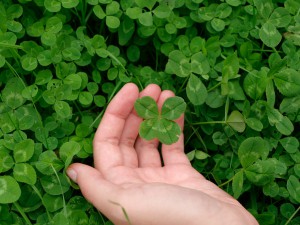 St. Patrick's Day means something a little bit different to everybody. For kids, it's a warning to wear green or be pinched, and for adults, it might be the rare opportunity to drink green beer. Its origins have seemingly gotten lost in translation, but you're bound to have fun on a holiday devoted to lucky clovers, pots of gold, and leprechauns. A day this silly deserves to be celebrated unabashedly, and there's no better place to do that than in Big Bear while luxuriating in one of the finest vacation rentals available. Renting a cabin in Big Bear might mean it's your friends who spend St. Patrick's Day green with envy!
If you're planning to chase rainbows on a hunt for pots of gold, the weekend of March 17th might be the time to do it. If you had other activities in mind, though, Big Bear has lots to offer. March is a particularly beautiful time to visit. Snow starts to melt off, amusement abounds, and outdoor activities, as always, provide more than enough entertainment. You can spend the day exploring one of Big Bear's many lush forest areas, and though you likely won't find gold, you may find some four-leafed clovers. Nothing is quite as lucky as getting to relax in a premium Big Bear cabin, though.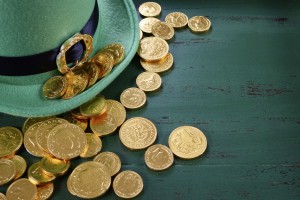 If you'd rather spend the day celebrating in a more traditional manner, adults can enjoy the festivities that will be hosted at many local bars and taverns. Nottinghams Tavern is just one destination you can stop by for food, drinks and a great social scene. St. Patrick's Day is sure to provide a lively party scene, but whether or not green beer will on the menu, we're not sure.
Big Bear is known for its beautifully green landscapes, so what better place could there be to spend St. Patrick's Day? And your trip won't be complete without booking a luxury vacation rental from Five Star Vacation Rentals. Other rentals don't compare to the designer features, stunning layouts, and immaculate beauty of our cabins. Don't be surprised if you visit Big Bear and find that you'd prefer to stay inside all day!
Big Bear is our most popular locale, but we offer incredible rentals for a variety of other destinations, too. So if St. Patty's in Big Bear is not your cup of tea, you can book Five Star Vacation rentals in Nuevo Vallarta, Mammoth Mountain, Park City, Southern California Beaches, and La Quinta. Most people don't get to vacation often, so we go above and beyond to ensure that when you're staying in one of our rentals, you are enjoying the finest luxury and relaxation. If you'd like more information, you can reach out to our friendly staff by calling 310-780-3411.