Labor Day in Big Bear is a great way to enjoy summer's last hurrah, and we're here to help you enjoy every last moment of it.  It's always a busy weekend for us, and we only have a handful of Big Bear Vacation Rentals still available as we write this.  Since this is very last minute, you'll probably want to give us a call to book your stay.
We can't promise these will still be available, but if you hurry, here are a few of the properties you may be able to enjoy this weekend: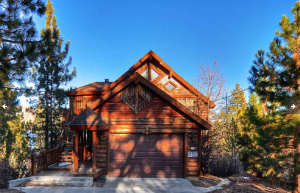 Our cabin #6, Talmadge Lodge is a real beauty, and perfect for a getaway this weekend.  It's located just a short walk to The Village, so you can enjoy some of the great shopping and restaurants just a few minutes away.  It's built with grand style and boasts 5 bedrooms and 4 baths with room for 16 guests.  You can enjoy your Labor Day in Big Bear without ever leaving the cabin with this one. It has an amazing gourmet kitchen and a pool table, foosball table, exercise room, 2 fireplaces. See more photos and details at this link.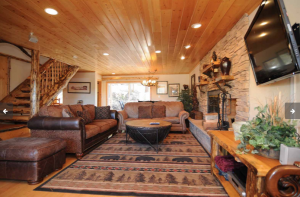 If that one's already taken,  be sure to ask about Cabin 13. We call it Ski-In/Ski-Out Bear Mountain, and it's just as comfy and beautiful during the summer as it is with skis. It has an open concept living room with nice big screen LCD, DirecTV, and a DVD player, so you can bring that collection of your favorite movies you've been wanting to watch.  Be sure to spend a few minutes just walking around the house and taking in all the warmth of the wood in the log-style cabin. Cap it all off with a relaxing soak in the spa out on the deck.  You get more info and photos at this link.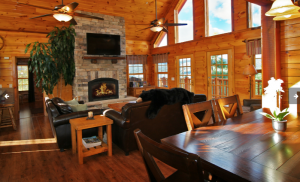 One last bit of paradise that's still available at this writing is our Cabin #15, Gorgeous Lakeview Village Lodge.  As the name implies, this amazing Big Bear vacation rental boasts some of the best views of the lake from virtually every room.  It has a secluded location, so you can enjoy some privacy while you relax in the hot tub. After dinner you can relax in front of the fireplace or enjoy a friendly game of pool.  Make this a Labor Day in Big Bear that you'll all remember!
Want to plan a getaway someplace else? We also maintain rentals in  Nuevo Vallarta, Mammoth Mountain, Park City, Southern California Beaches, and La Quinta. No matter what city you are visiting, staying in a Five Star Vacation Rental property will ensure that you experience the absolute best in luxury accommodations. We would be glad to help you plan your getaway to Big Bear or elsewhere, so if you would like more information, you can reach out to us by calling 310-780-3411.