We're always excited when we add a new property to our family of luxury vacation rentals. We're constantly on the lookout for properties to extend our offering of luxury accommodation. It's a big deal, because we're pretty choosy. And it's an even bigger deal when it starts our presence at a new destination. That's why we're so pleased to announce our newest market and property in the  Miami Florida area.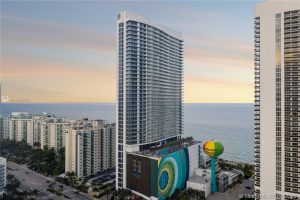 Miami has long been a hot spot for vacationers, and we've been searching for the perfect entry into this resort destination. We're pleased to have found a 23rd floor oceanfront residence in the new Hyde Resort on the water at Hollywood Beach. This is one of the finest resort experiences we've ever seen. From the on-site fine dining, to the fully equipped gym, two infinity pools, and of course, the adjacent oceanfront, you're sure to have a relaxing time. There are only a handful of times we recall having so many "wows" when we first visited one of our properties, and this is definitely one of them. The ocean views from the 23rd floor are just amazing. And the clean, open spaces found here are designed to let you relax as you absorb the amazing ocean views.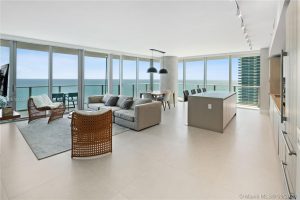 The property was completed in 2017 and still has that new feeling to it. There's room for 8 guests in its 3 bedrooms and 3 baths. And you can look forward to a VIP experience as you'll get direct elevator access shared by only 40 of the over 400 condos on the property. Start your day at the gym, or just enjoy your included beach access with 2 lounge chars and an umbrella. All these amenities and unlimited Wifi are included with the $25/day resort fee charged in addition to your rental fees.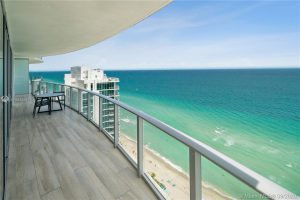 The Miami airport is about a half hour away, and once you whisk up the elevator to your 23rd floor retreat, you'll be a world away from whatever stress you left behind. Sink into a chair on the balcony, and see how many sailboats you can count on the ocean spread out in front of you. And feel the ocean breezes tussle your hair as you start your amazing Florida getaway.
See more photos and details at this link. Give us a call at 310-780-3411 to book your stay.  This is a great time to plan a trip to Florida with Five Star Vacation Rentals. Dates are filling fast, and you'll be glad you did. Looking for a getaway somewhere else? You can see all of our Big Bear cabins and luxury estates at this link. Here are links to our other properties in Nuevo Vallarta and La Quinta.  We're committed to providing top quality cabins, estates, and condos for your next vacation getaway.