To help you plan your January Big Bear getaway, we're here to offer a few great reasons beyond the amazing luxury you'll enjoy in one of our Five Star Vacation Rentals. January is one of the best months to visit, because there's usually a good snow pack for the skiers, and Big Bear Village is humming with the shops and restaurants open for great food and fun shopping.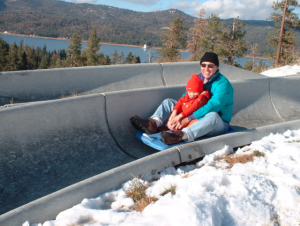 The Alpine Slide is open year round and has enough activities to fill several visits. Their Mineshaft Coaster is a thrilling one mile coaster ride downhill with enough twists and turns to keep you giggling and shrieking the entire ride. The new Soaring Eagle takes riders up backwards 100 feet vertical and 500 feet long to the launch tower before you are catapulted forward at speeds up to 28 mph back to the base. Their snow play hill is perhaps the best inner tube snow run in all of Big Bear, and they've made trips up the hill amazingly easy with their covered magic carpet lift that glides you up the hill protected from the elements by a plexiglass enclosure. And for general all around fun, you can enjoy their go carts and mini golf. It's one of our favorite Big Bear destinations, and one we always recommend to all our guests.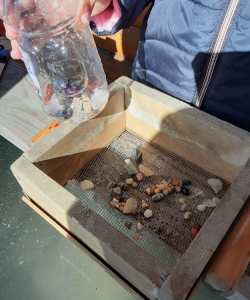 Gold Rush Mining Adventures is open year round and offers great fun for the entire family. You can pan for gold, shop for geodes and gemstones and enjoy their mining decor. It's a great time of discovery and excitement for kids as they dig for rough stones, polished rocks, fossils, and even some old shark's teeth. Years from now, your kids will still pull out the bottle of their treasures and remember the fun they had that day at Gold Rush Mining Adventures. They're located at 40016 Big Bear Blvd.
And of course, there's the skiing. Many of our guests return every year for their pilgrimage to the slopes. And this year is already shaping up to be a great snow year with lots of pack and the hope of a very snowy season ahead. Most runs at Bear Mountain and Snow Summit are open, and you'll want to get your lift tickets in advance because of the popularity.
Book online and check out our Big Bear cabins and estates at this link.  Or give us a call at 310-780-3411, and we'll help you choose a great property for your perfect getaway.  And if you'd like to explore any of our other destinations, you can be assured that we're committed to providing top quality cabins, estates, and condos for your next vacation getaway.  We have offices in Newport Beach and Big Bear. Here are links to our properties in Nuevo Vallarta and La Quinta.