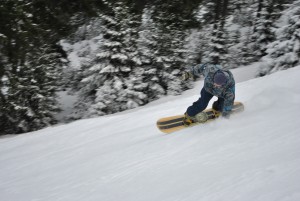 We see it just about every year. March rolls around, and we start seeing the snowpack in Big Bear fade away. We also start getting calls from people who delayed their ski trips. Sadly, some delay too long, and another year goes by without some quality time racing down the slopes. You can be sure this doesn't happen to you if you'll just take a few minutes now to carve out your slice of winter in Big Bear.
We're already seeing an increase in our snow bookings. And with the arrival of big new storms during the past weeks, we're sure to see the trend increase. In case you've forgotten all the snow fun that awaits, let's take a moment to review:
Bear Mountain and Snow Summit are southern California's premiere downhill ski destinations. The storms this season have contributed to conditions that many only dream about. A huge base helps keep the runs pristine longer. Temps are dropping below freezing most nights, so the massive snow making machines are supplementing the slopes with fresh powder most nights. It's a great time to visit.
While we're often inclined to enjoy winter in Big Bear from the comforting warmth of a hot tub or by the crackling fireplace in one of our luxurious vacation rentals, there are some additional fun things to do in Big Bear.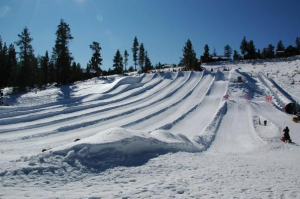 Big Bear Snow Play offers downhill inner tubing with a delightful twist. They have a "magic carpet" that takes you effortlessly from the bottom of the run back to the top. It's a great feature. It's pretty much all play and no work. Enjoy a thrilling ride down one of southern California's longest downhill inner tube runs, and then relax on the magic carpet ride back up the hill to do it again. Sign us up!
Big Bear Alpine Slide is another favorite. Experience the fun of a luge run down the hill. You'll navigate one of the twisting banked concrete runs in your sled as you race to the finish. This could be how future Olympians are born.
Check out all our Big Bear vacation rentals at this link, and if you're in the mood for a getaway elsewhere check out our vacation rentals in  Nuevo Vallarta, Mammoth Mountain, Park City, Southern California Beaches, and La Quinta. No matter what city you are visiting, staying in a Five Star Vacation Rental property allows you to experience the absolute best in luxury accommodations. We would be glad to help you plan your getaway to Big Bear or elsewhere, so if you would like more information, you can reach out to us by calling 310-780-3411.