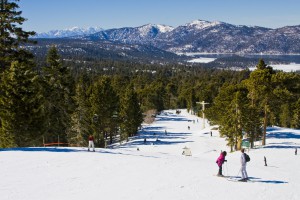 There are six words that many of our guest spend months waiting to hear: "Big Bear ski season is open." And we're glad to confirm it's true. We've been getting a good supply of fresh snow on top of groomed slopes, and we're looking at some great conditions. This means it's a great time to plan your ski getaway to Big Bear with Five Star Vacation Rentals.
Skiing in Big Bear offers something for every skill level, and there's really no better way to plan your getaway than with a Five Star Vacation Rental as your home base during your stay. Those first couple of days back on the slopes can be a bit strenuous, so be sure to choose one of our properties with a hot tub. It's a great picture, isn't it? Spend the day having fun on the slopes, and follow it up with an evening relaxing in the comfort an privacy of your hot tub.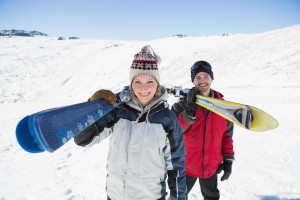 And the Five Star experience is so much better than other options. Some of our properties are within walking distance to the slopes, and all of them offer a level of comfort and privacy you simply cannot duplicate with most other options. Imagine avoiding crowded lobbies and parking lots. You'll have your own private parking, and many of our properties have garages to park in at night. And we all know that a full day on the slopes can be both fun and tiring. How much better will you sleep in your own private luxury cabin compared to a room in a crowded hotel with a loud hallway just outside your door? We think you'll find it an entirely different experience, and one that will make your enjoyment of your ski outing even more special.
Browse all of our Big Bear cabins at this link, or give us a call at 310-780-3411, and we'll help you find a cabin to meet your specific requests. We can accommodate both big and small groups, so feel free to call us for ideas on how to plan your perfect ski getaway. And if you'd like to explore any of our other destinations, you can be assured that we're committed to providing top quality cabins, estates, and condos for your next vacation getaway.  Here are links to our other properties in Nuevo Vallarta, Mammoth Mountain, Park City, Southern California Beaches, and La Quinta.