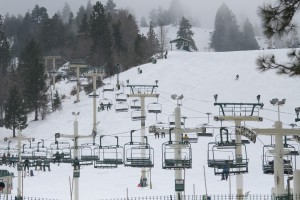 Are you thinking about a ski getaway to Big Bear this year? Planning ahead has its benefits. It's our busiest time of the year, and our online booking is a great tool to let you see the wide selection of cabins we have available for the specific days you have in mind.  Once the first snow arrives, our calendar starts to fill immediately. So there's no time like the present when our selection and availability is the best it will be.
A Ski Getaway To Big Bear for Non-Skiers?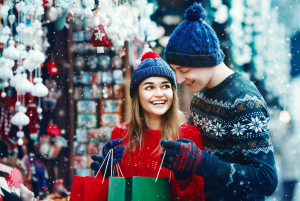 And even if you're not a skier, winter in Big Bear has a lot to offer. The holidays are amazing as the entire town takes on the look and feel of a comfy hideaway with beautiful lights and holiday decorations. The Village is a great shopping and dining destination any time of year, and during the winter it pull out the stops. You'll enjoy unique gifts and unparalleled dining when you stroll among the shops there. Enjoying an afternoon or evening out in The Village is a great addition to your stay with us in a Five Star Vacation Rental.
Off the slopes, many of our properties are designed to make your winter say a fun adventure. Ask one of our booking agents to help you locate a property near snow features, and we'll be happy to accommodate.
Maria and Kevin Cobb have been hosting guests at luxury vacation rental properties for nearly 20 years. Our goal is always to create a pampered feeling that will ski getaway to Big Bear. View all of our Big Bear cabins and luxury estates at this link.  Or give us a call at 310-780-3411, and we'll help you choose a great property for your perfect holiday getaway.  And if you'd like to explore any of our other destinations, you can be assured that we're committed to providing top quality cabins, estates, and condos for your next vacation getaway.  We have offices in Newport Beach and Big Bear. Here are links to our properties in Nuevo Vallarta, Mammoth Mountain, Park City, Southern California Beaches, and La Quinta.