We're in the height of snow season, so, if you haven't already done so, we recommend that you call us to secure your reservation right away.  January is one of our busiest months, and we hate turning guests away!  Call us at 310-780-3411, and we'll be happy to find the ideal vacation rental cabin for your getaway.
Bear Mountain and Snow Summit
Planning a getaway for some skiing?  Great idea!  Big Bear has terrific skiing available at both Bear Mountain and Snow Summit.  The two slopes are operated in conjunction with each other, so you can ski to your heart's content at one, and then take a quick trip over to the other.  They even offer a free shuttle service between the two.  All lift tickets work at both locations, so you can just concentrate on getting some serious skiing in.  Several of our properties are within walking distance of the slopes, so you can see how this will make for a perfect ski getaway.  Don't worry about parking or traffic.  Walk to the slopes, use the free shuttle, and return to your luxury Five Star Vacation cabin rental at the end of the day.  At the end of that day, you  can relax on the plush sofa, close your eyes, and just listen to the crackling fire.  Life really doesn't get much better than this.
Bear Mountain and Snow Summit limit the number of lift tickets they sell to avoid long wait times.  So be sure to make your plans early, and buy your lift tickets before you go.  Here's the link to purchase online: http://www.bearmountain.com/snowboard/rates/lift-tickets/
Snow Fun Off the Slopes
While most people think of the great ski slopes when they head to Big Bear for snow play, there's a lot more to do in the snow without skis.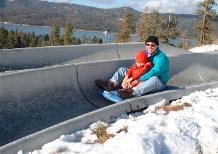 Big Bear Snow Play is Southern California's premier downhill inner tube destination.  They have a covered magic carpet lift that transports you to the top of the slope without wearing you out.  For one low entry price, they'll supply the tube, and you'll get unlimited runs down the hill.  This is a great choice for families with small children who want to play in the snow, but don't want to strap skis on the little ones yet.  Visit their website for more details: http://www.bigbearsnowplay.com/
The Alpine Slide at Magic Mountain offers an entirely different sort of downhill fun. You kids will get wide-eyed when they realize that you're taking them for a wild bobsled ride down a banked, twisty hillside track.  It looks and feels almost like the downhill runs in the Olympics, and there's really nothing like it anywhere else in Southern California.  The runs are open year-round, so even if there's no snow during your visit, the downhill bobsled runs will be open.  You can get more information on their website:  http://alpineslidebigbear.com/AlpineSlide.html
But the best part of your Big Bear getaway will surely be the relaxing time you spend in your  luxurious cabin offered by Five Star Vacation Rentals.  We're convinced that our Big Bear cabins are the finest quality luxury homes you'll be able to find.  And we're always working behind the scenes to make sure the properties are all kept in top-notch condition.  We want to make sure that your next call to us will be to book another vacation.
View our Big Bear luxury cabin rentals on this page.  We also have luxury vacation rental homes available  in Park City,Palm Springs/La Quinta, Southern California Beaches, Mammoth Mountain, and Villa la Estancia in Nuevo Vallarta, Mexico.  Each of our vacation rentals is sure to provide your family a vacation you'll remember fondly for years to come.  Call us at 310-800-5454, and we'll help you book your next getaway.