You've got lots of choices for your July 4th celebration, and Big Bear may well be the best one. Every year Big Bear rolls out the biggest fireworks display in all of Southern California. Many families make this an annual event, and you may do likewise after your first visit.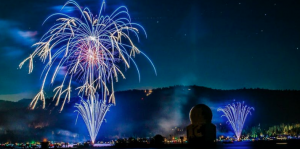 There are a lot of reasons why Big Bear's Independence Day is so spectacular. The fireworks are certainly one of the main reasons. The beauty of the fireworks is more amazing because they're fired from a barge on the lake, and the reflection off the water unlike anything you've probably seen before. The show can be seen from pretty much anywhere along the shore, from boats on the lake, and many of our properties are perfect for viewing from their decks.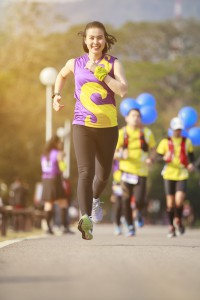 Of course every 4th of July must include some great barbecue, family events, and other activities. You can start your day with the second annual 4th of July Fun Run at Meadow Park. This is a truly fun run with prizes being awarded for the best costumes. Choose the distance that suits you best from 5K, 10K, and 15K, with strollers and walkers welcome on the course.
After the run, you can take in the festivities at the 25th Annual Independence Day Fair at the Big Bear Lake Convention Center. There will be booths with local artisans, live music, and specialty foods and gifts. The kids will enjoy the bounce house, face painting, crafts and lots of treats. Admission is free, and it's a great way to enjoy some fun shopping and entertainment before the fireworks start later. Open from 10:00am to 5:00pm.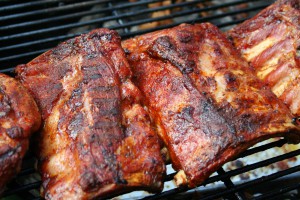 When you're ready to settle in for some great barbecue and a good spot to watch the fireworks, plan to head over to the Rotary Club's annual barbecue. Tickets include a range of tasty options from hot dogs and hamburgers to barbecued chicken and baby back ribs. And the ticket price also lets you stay to enjoy the fireworks from one of the best settings anywhere along the lake. You'll want to bring your own chairs and dress warmly, because it may get chilly.
You can book your stay online or view all of our Big Bear cabins and luxury estates at this link.  Or give us a call at 310-780-3411, and we'll help you choose a great property for your holiday vacation or getaway.  And if you'd like to explore any of our other destinations, you can be assured that we're committed to providing top quality cabins, estates, and condos for your next vacation getaway.  Here are links to our other properties in Nuevo Vallarta and La Quinta.