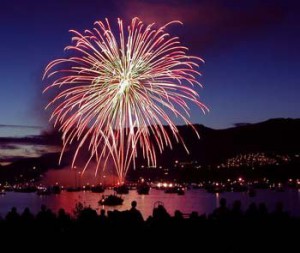 July in Big Bear is full of options for family fun, and the 4th is certainly the most popular event of the month. We suggest you book early for the dates surrounding the 4th, because we sell out every year.  If you've never seen the fireworks over Big Bear Lake, you should put it on your bucket list. Big Bear prides itself on putting on the biggest fireworks display in all of Southern California. There are plenty of great spaces around the lake and boats you can rent to view the spectacle on the lake. There are also a bunch of other events during the day from a fun run in the morning, a festival with booths full of great gifts and creations from local artists, and plenty of amazing food. But don't delay!
Our road warriors will have plenty of opportunities for group bike rides throughout July. Meet every Monday morning at the The Copper Q for the weekly Java Morning Road Ride with the Big Bear Cycling Association. The ride is free, and starts at 8:30am. July offers a new ride almost everyday, and various difficulty levels are offered as well. Visit their website for more details.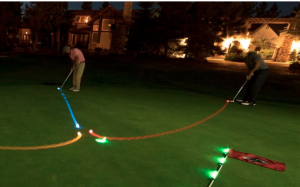 July 5th and 6th Bear Mountain golf course is offering a unique experience for the golfers. It's a night time glow in the dark extravaganza with glowing golf balls, and the entire course laid out with a special lighting. You can be the first one among your golfing buddies to declare you love the sport so much, you even play it at night. Tickets for the event are $59 and include the green fee, cart rental, light refreshments, and a glow-in-the-dark ball. Check out their website for more details and to RSVP.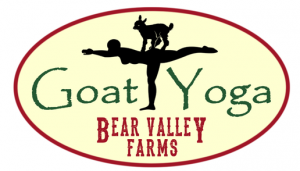 If you've never done goat yoga, your life is incomplete. Bear Valley Farms is offering goat yoga on their 30 acre spread, and it's a rare chance to relax and feel the soothing hooves of some baby and adult goats walk all over you. Leave your kids with the in-laws, and head over to spend some time with these kids. It's hard to imagine you won't come away from the experience with some great stories and some pretty relaxing yoga as well. Who knew allowing farm animals to climb all over you could be so relaxing? Visit their website for more info.
This is just a taste of the great events that await you during your July visit with Five Star Vacation Rentals in Big Bear.  You can book your stay online or view all of our Big Bear cabins and luxury estates at this link.  Or give us a call at 310-780-3411, and we'll help you choose a great property for your summer vacation or getaway.  And if you'd like to explore any of our other destinations, you can be assured that we're committed to providing top quality cabins, estates, and condos for your next vacation getaway.  Here are links to our other properties in Nuevo Vallarta and La Quinta.