The recent storms blanketing Southern California have inflicted pain on our driving, but bring paradise to the ski slopes. The weather reports say the drought is not over, but there's plenty of great base now. And fresh powder is falling regularly.  You need to stop procrastinating, grab your skis and call us.
Our most popular ski destination is Big Bear, and it's easy to see why.  Big Bear has two of Southern California's most popular ski resorts. Bear Mountain and Snow Summit both offer great slopes and cater to skiers of all ages and skill levels.  Lift tickets give you access to both slopes, and they offer a free shuttle between them.  On some days, you can ski virtually all day along on two different mountains without repeating the same run.  Save some time by purchasing your tickets in advance online. Here's the link:  http://www.bearmountain.com/snowboard/rates/season-passes/ Reserve your luxury Five Star Vacation Rental at this link: http://fivestarvacationrental.com/area_BigBear.php .  There's nothing like spending a day on the slopes and then returning to the amazing luxury of your Five Star Vacation Rental cabin.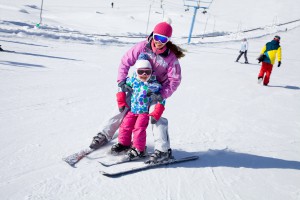 In the mood for a run down the slopes at Mammoth? We can help you there too.  We have two great condos in the Juniper Springs Lodge.  We love this destination because it's a true ski in-ski out location.  For the serious skier, you have no travel time at all.  You're right on the slopes, and can just about roll out of bed directly onto the first ski run of the day within minutes.  Take a look at our Mammoth units at this link: http://fivestarvacationrental.com/area_MammothMountain.php .
We're also pleased to offer a beautiful condo at the base of Park City Mountain in Park City.  Located just moments from to the Three Kings, First Time, and Eagle chairlifts, this is a great destination for up to 4 guests.  It's also centrally located for the great nightlife offered in Park City, so you can ski all day and enjoy the nightlife until exhaustion brings you back to your luxury Five Star Vacation Rental.  It will be a great feeling, though.  Take a closer look at this property at this link: http://fivestarvacationrental.com/propertyPage.php?prop=snowFlower
With all these great reasons to hit the slopes, the only thing remaining is to call us or book your getaway online.  Or give us a call, and we'll be glad to book your getaway for you. Looking for a vacation somewhere else?  Check out our luxury vacation rentals in Park City, Southern California Beaches, Mammoth Mountain, and Villa la Estancia in Nuevo Vallarta, Mexico. We realize that you get very little vacation time each year, so we're dedicated to ensuring that your time spent in one of our luxury rentals will be a great value for you and your family.  Call us today at 310-800-5454, and we'll help you plan the vacation of a lifetime.