Summer is rapidly coming to a close, and we know many of us are rushing around preparing for the kids getting back to school. This involves a lot of scheduling and general mayhem, so we're hoping to interrupt you for a moment to encourage you to plan your fall getaway to Nuevo Vallarta.
Nuevo Vallarta is in the middle of the rainy season right now. Some guests like the smaller crowds and romantic feeling of being on the beach during the storms. But October is usually one of the dryer months, and it's too early for the holiday crowds. This is why we recommend booking your fall getaway to Nuevo Vallarta now.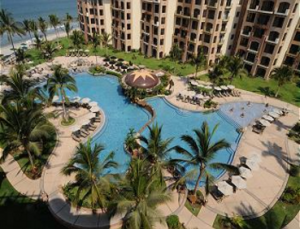 Villa la Estancia is our resort right on the beach, and it's simply breathtaking. You're moments away from the surf with every luxury amenity available right on the property. You can enjoy feeling pampered in the spa, swimming in the pools or in the ocean just beyond. The on-site restaurants are amazing, and you can also take a quick trip into nearby Puerto Vallarta to stock up on local fresh catch and vegetables to cook your own creations right in the kitchen of your fully-equipped condo.
Golfers also love this destination, because there are world-class courses nearby.  Fishing off the coast can be truly epic with a broad variety of sport fish in the local waters. And Puerto Vallarta is just a short cab ride away with its old-world feeling and amazing fresh seafood restaurants. You'll also want to browse the many shops and locally-created art to take something back to remember your time here. The Historic Center is a favorite with many guests and features artwork and crafts created by local artisans.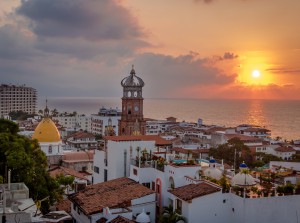 The old city in Puerto Vallarta has something for everyone in the family, and there's a lively nightlife as well. Between your time on the beach, relaxing in your luxury condo, or exploring the local scene, this will be a trip you'll want to repeat. And it's perfect for a romantic getaway for just the two of you or the entire family. There are direct flights out of LAX most days for the 3 hour flight to Puerto Vallarta. You can rent a car at the airport or just grab a cab to the resort.
You can view all of our Nuevo Vallarta condos and book online at this link. You can also have a great family holiday in  Big Bear and La Quinta. No matter what city you are visiting, staying in a Five Star Vacation Rental property will ensure that you experience the absolute best in luxury accommodations. We would be glad to help you plan your holiday in Nuevo Vallarta or elsewhere, so if you would like more information, you can reach out to us by calling 310-780-3411.