When your family is looking for some leisure time, it's always important to keep in mind those things that each of you most enjoy. In this week's blog we're going to help you plan out a golf vacation getaway that will best cater to the golfers in your family.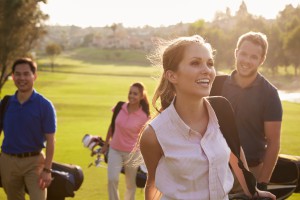 There are millions of golfers around the country, probably because it's a sport that combines several things a lot of people enjoy: Spending time outdoors in beautiful surroundings with friends and family in a pursuit that requires some practice and skill but also benefits from a bit of luck too. Planning a great golf vacation can be a wonderful treat for the golfer in your family.
We have several destinations among our vacation rental homes, estates and condos that are located perfectly to cater to your golf cravings.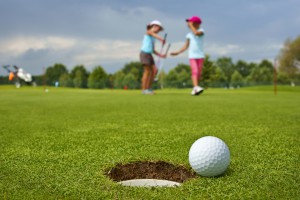 We've lately been adding some amazing luxury estates to our lineup in the community of La Quinta near Palm Springs in the desert east of Los Angeles. These homes are all located on local golf courses, so you can enjoy the links by day, and relax just off the fairways at night. Choose one of our homes with a private pool and spa, and you'll have a getaway that everyone in your party will enjoy even if they aren't golfers.  Many of these properties come with private casitas and multiple master suites, so they're suited for bigger parties and multiple families to enjoy. View all our La Quinta properties at this link.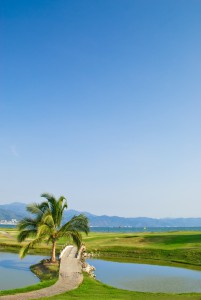 Want to make your golf getaway a bit more exotic? Choose one of our luxury surf-side condos at Villa la Estancia in Nuevo Vallarta, Mexico, and you'll be sure to have a memorable getaway. In addition to a location near several championship golf courses, your family will enjoy a luxury resort on the beach with the great shopping and dining of Puerto Vallarta nearby.  Check out our Villa la Estancia vacation rentals at this link.
Though Big Bear is our most popular destination, it's not usually due to the golfing. But the Bear Mountain golf course can add to a great mountain getaway for your golf vacation. This 9-hole course enjoys the dramatic scenery you expect in Big Bear, and is a great course for golfers of all skill levels. Combine this with the other great attractions you enjoy in Big Bear, it can be a great choice that will keep your golfers happy, but also have lots of other choices for biking, hiking, fishing, and boating for the rest of the family. The golf course is open seasonally through the end of October. View all your luxury Big Bear vacation rental choices at this link.
View all of our Big Bear cabins and luxury estates at this link.  Or give us a call at 310-780-3411, and we'll help you choose a great property for your next getaway.  And if you'd like to explore any of our other destinations, you can be assured that we're committed to providing top quality cabins, estates, and condos for your next vacation getaway.  Here are links to our other properties in  Park City, Utah, Palm Springs/La Quinta,  Southern California Beaches, Mammoth Mountain, and Villa la Estancia in Nuevo Vallarta, Mexico.