This time of year we start seeing an increase in activity with our Big Bear cabins. This usually coincides with the first real snowfall of the season. But we don't want to neglect our guests who enjoy some of the other great activities available in Southern California, so we're highlighting this week some great options to plan a November Golf getaway to La Quinta.
November usually offers perfect weather for golfing with lows in the 50s, highs in the 70s, and virtually no rain days. Couple this with La Quinta's collection of truly world-class golf courses and you're set for a golf getaway that will be everything you want. And we're ready with some amazingly luxurious options to help enhance your stay.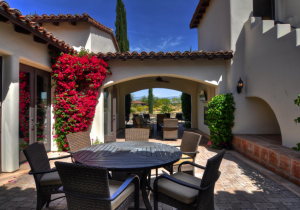 While we always hesitate to favor any of our properties over any other, we have to admit that PGA107 always has us smiling with a bit more spring in our step. We're not sure if it's the deck for our morning coffee off the private upstairs bedroom overlooking the small adjacent lake, the seating areas in the open courtyard, or the arched doorways and windows that remind us of something from old Hollywood. But whatever it is, we really love this place, and we're sure you'll feel the same. It's spread out over 4600 square feet and with 5 bedrooms and 5 baths. When you're not out on one of the nearby golf courses, you can relax in your own private salt water pool and spa with the soothing sounds of their waterfall in the background. There's plenty of grassy areas and room to spread out here. Check out more photos and details, or book online at this link.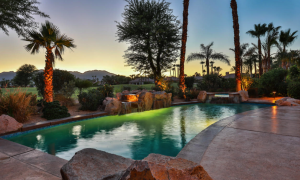 PGA122 is another of our desert gems, and it's located on the 6th fairway of the PGA West Weiskopf Private Course. There are built in TVs throughout the house with Travertine flooring and dark Italian granite in the kitchen. There's plenty of outdoor seating to take in the mountain and fairway views when you're not enjoying the Pebble Tech pool and spa with their adjacent waterfall. There's room for 8 guests in its 3 bedrooms and 3.5 baths. Find more photos and details or book online at this link.
You can book your stay online or view all of our La Quinta properties at this link.  Or give us a call at 310-780-3411, and we'll help you choose a great property for your next vacation or getaway.  And if you'd like to explore any of our other destinations, you can be assured that we're committed to providing top quality cabins, estates, and condos for your next vacation getaway.  Here are links to our other properties in Nuevo Vallarta and Big Bear.