In our blog last week we took you on a tour of some of our amazing vacation rental properties in La Quinta.  We finishing up this week with a closer look at the rest of our getaway opportunities there.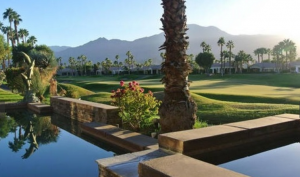 Next up, we're looking at PGA104. This is a 4000 square foot estate that will have you enjoying the view while you relax in the luxury. It has 5 bedrooms and 4.5 baths with room for 12 guests. Three of the bedrooms are master suites, and there's a separate casita with its own bedroom and bath. This combination makes this a great choice for larger groups or a family gathering with the added privacy. You'll enjoy the view of the mountains across the 16th fairway as you relax in the pool and spa. The gourmet kitchen will inspire you to create something amazing for meals with your assembled guests. View more photos and details at this link.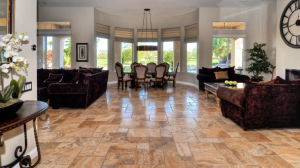 The approach to PGA 105 has the luxurious feel of an mansion tucked away in the Hollywood Hills. Its ornate glass and wrought iron front door yields to a custom travertine flooring that will delight your eyes. The estate stretches over 4400 square feet. Each of its 4 bedrooms is a master suite, so this one will also be a great choice for larger groups or a family get together.  If you've never enjoyed the refreshing difference offered by a salt water pool, you'll be sure to enjoy this estate. The lot is elevated and overlooks fairways number #5 and #6 of the private Weiskopf golf course. Follow this link for more photos and details.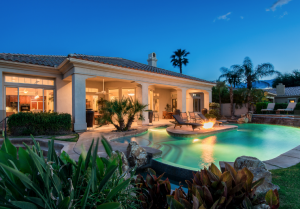 If you're already having a hard time deciding on which of our amazing La Quinta properties to choose, let's complicate things by taking a closer look at PGA 106. This estate has 5 bedrooms and 5 baths spread out over a 4300 square foot floor plan with a separate casita. The pool and spa out back overlook the amazing views of golf course and mountains beyond. The outdoor glass fire pit is a great place to relax and roast marshmallows with the kids after you enjoy a meal prepared in the gourmet kitchen. The master suite is breathtaking with its luxurious ensuite and walk-in closet. Whether you're looking for a fun golf getaway or just some time to relax while surrounded with luxury and great views, this is a good choice.  See more photos and details at this link.
Be sure to check back again next week as we complete our tour of our La Quinta properties. Check out all our La Quinta vacation rentals at this link, and if you're in the mood for a getaway elsewhere check out our vacation rentals in  Nuevo Vallarta, Mammoth Mountain, Park City, Southern California Beaches, and Big Bear. No matter what city you are visiting, staying in a Five Star Vacation Rental property allows you to experience the absolute best in luxury accommodations. We would be glad to help you plan your getaway to Big Bear or elsewhere, so if you would like more information, you can reach out to us by calling 310-780-3411.