Mammoth Mountain is known as the top spot—no pun intended—for outdoor fun and activities in Big Bear. This is especially true in winter when snow and low temperatures make it the perfect destination for skiing and snowboarding. Don't let that fool you, though. Mammoth Mountain offers plenty of fun year-round, including many summer activities that visitors can indulge in. If you're hoping to spend time appreciating the great outdoors in Big Bear, head to Mammoth Mountain to take in activities such as hiking and mountain biking amidst the area's most beautiful natural scenery.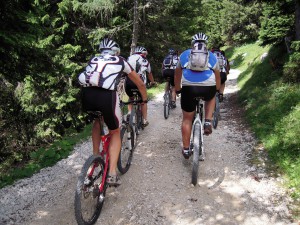 Hiking is actually one of the biggest attractions visitors in Big Bear visit for, and there's no better place to find a trail than Mammoth Mountain. Here, you can appreciate the blanket of trees, including majestic pines, douglas firs, cedar trees, and junipers. Your hike may also turn into an impromptu animal watch. In the mountain, critters such as squirrels and chipmunks are common, but you might be lucky enough to catch a glimpse of a bobcat, fox, or mountain lion. The summer months are a perfect time to hike the altitude of the mountain and take in the sights.
If hiking doesn't entice you, however, maybe mountain biking will. During summer, Mammoth Mountain offers the only lift-served trails in California, so you can easily transport your bike to the top of the mountain and trek along its trails. Mountain biking offers an intense workout paired with the opportunity to enjoy the natural scenery. Few activities are as high energy, and few will offer the same chance to see the beauty of Big Bear from atop a mountain. This Mammoth Mountain activity is certainly not for the faint of heart, but if you want a stunning experience, you can embark on the trail.
Big Bear is a year-round destination because its beauty and attractions never disappear. While you may not be able to hit a ski slope, you can bike down a mountain instead. Summer offers sunny days and bright prospects for fun. Five Star Vacation Rental offers luxury vacation homes in Big Bear so that you can enjoy activities on Mammoth Mountain and retire to the comfort of your rental. Fireplaces, gourmet kitchens, and other luxurious features make it the obvious choice for your next stay in Big Bear.
Big Bear offers hiking, biking, and a plethora of other outdoor activities on Mammoth Mountain. Five Star Vacation Rental also offers luxury accommodations in  Nuevo Vallarta, Mammoth Mountain, Park City, Southern California Beaches, and La Quinta. No matter what city you are visiting, staying in a Five Star Vacation Rental property will ensure that you experience the absolute best in luxury accommodations. We would be glad to help you plan your vacation to Big Bear or elsewhere, so if you would like more information, you can reach out to us by calling 310-780-3411.