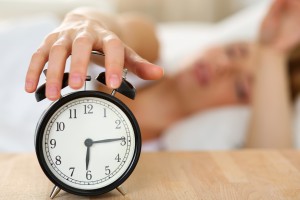 There's nothing quite like being robbed of an hour of sleep. Alas, Father Time isn't always on our side, and so we begin the springtime season with Daylight Savings. If you're like most people, the adjustment will be a little difficult, but waking up in a luxury cabin can help soften the blow. Losing an hour of sleep isn't so bad, after all, if the rest of the night is spent in the comfort of a vacation rental's warm, cozy bed. Daylight Savings isn't just a great excuse to rent a cabin, though, it's also one of the most beautiful times of year that you can plan a visit to Big Bear.
As the clocks spring forward, winter gives way to the welcoming brightness of spring. This is a fantastic time to come visit, since most of the snow has started to melt off, and activities during this season often take place around the lake. Fish species such trout and bass populate the water and make for ideal fishing conditions. Amateur fishers and seasoned pros alike are welcome to bring their bait and catch some of the lake's plentiful fish population.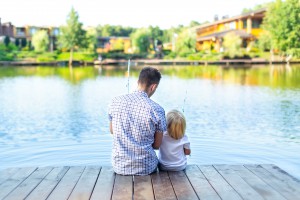 Other activities include biking along one of many mountain trails nestled in nature as spring blooms. The snow that covers many of the paths in winter will melt off and open up opportunities for anybody who'd prefer a bike experience with a little more traction than snow provides. There are vendors nearby who supply bike rentals, and you can also book a spot on a guided tour if you'd like to bike along in a group. Biking in the beautiful landscape that spring reveals is a wonderful adventure.
The only thing that might rival the fun and activities of Big Bear itself is the luxury and relaxation you'll find in a Five Star Vacation Rental. Our properties combine the absolute best of comfort and high-end accommodations, with gourmet kitchens, designer features, and gorgeous fireplaces throughout many of our rentals. You'll find that the excitement of a day in the town may be matched by the excitement of settling in and relaxing in the comfort of your vacation rental.
While Big Bear is our most popular destination, you can also enjoy some quality time in our other great luxury vacation rentals:  Nuevo Vallarta, Mammoth Mountain, Park City, Southern California Beaches, and La Quinta. With Five Star Vacation Rentals, you can be assured that your vacation time will be a time of true relaxation and enjoyment for your family.  We recognize that most families today get precious little vacation time, and we work hard to help make sure your time away will be memorable and meaningful. Our staff is ready to answer your questions and help you put together a great vacation.  Give us a call 310-780-3411.