California is the most amazing place to live, isn't it? Your intrepid blogger is still turning on the air conditioning with our current heat wave, but he just glanced at the calendar of events and sees that the Mammoth Mountain ski season opens in just a few weeks.  Yes, that sound you hear coming from the garage is your skis whining for some attention.  You're still running around in shorts and stopping for the occasional Slurpee on the way home, but pay no mind to these things.  Winter is here.  You may not feel it, and it may seem too soon, but it's not.  Grab a rag, dust off your skis, then grab your credit card, and give us a call.  We've got some great Mammoth vacation rental condos that are just as eager to see you as you are to see them.
Opening weekend at Mammoth is always an amazing event.  At 8:30 am on Thursday, November 8th, Mammoth kicks off a huge weekend of festivities.  The first chair goes up and the celebration begins.  This is one of the year's biggest events in Mammoth.  Snowfest is celebrated with live music, movie premiers, and much more.  Visit their website for the full lineup of fun.
If you've never been to Mammoth for a ski trip before, you're really cheating yourself out of one of the great experiences in the life of a Southern California skier.  The quality of the skiing rivals that found in some of the top resorts around the world.  And the sheer number of runs available usually insures that you actually spend your time skiing rather than fighting downhill traffic.  Ski runs are available for all skill levels, with some amazingly long runs for intermediate and expert skiers that give  you outrageous amounts of downhill time.
We've got ski-in/ski-out condos that are perfect for your getaway.  We have 2  Juniper Springs condos next door to each other, so you can put together a group of up to 8 people to share.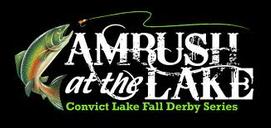 And for all our anglers out there, the "Ambush at the Lake" Convict Lake Fall Trout Derby is ongoing through the middle of November. This is a great annual event with thousands of dollars in prizes. Drop a line, hook some cash! The entry fee is only $15.00, and it can be some great family bonding time hanging out on the lake trying to stay warm. Visit this link for more details. Bring blankets, a Thermos of hot chocolate, and some old memories to help create a few new ones.
Don't forget that we also have Five Star Vacation Rentals available in Park City, Palm Springs/La Quinta,  Southern California Beaches,  and Big Bear.  Each of our destinations offers a huge variety of activities for the entire family, so call us to book your next vacation.  We'll help you plan a vacation you'll always remember and want to repeat.