Well, the kids are back in school or will be in a few days.  It's time to surrender to the more mundane aspects of a weekly schedule that includes early morning roundups of kids, backpacks, lunches, puppies and car keys.  Why is it that the car keys are always someplace new?  Maybe we should devote an entire blog to that topic.  But not this one.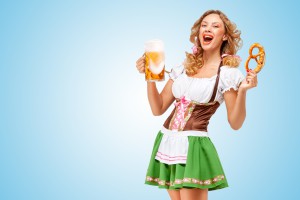 Your bodies may well be going through the motions of a post-summer reality, but there's really no reason to surrender your mind to this eventuality.  Much of your daily routine can be handled quite well without devoting your entire attention to it, right?  Spreadsheets and calendars already have boxes on them, and you just need to punch in a bit of text.  Heck, most of those reports you're preparing can practically write themselves.  And unless you really are a brain surgeon or rocket scientist, this really isn't brain surgery or rocket science.  So why not allow your mind to continue in summer vacation mode for a while longer?  We can't think of any compelling reason to pull you back.  In fact, we've cooked up a few reasons that you should remain in vacation mode for at least another several weeks.  Take a look at some of the fun things that you can do in Big Bear in September:
Oktoberfest is back! It starts September 13th and runs weekends through October 25th.  This annual event if one of our most popular, and it's absolutely a great time for the entire family.  There's beer, brats, more beer, great ethnic costumes, more beer, games for the kids, dancing, beer, and pretzels.  And did we mention beer?  Even if you're not a big beer drinker, Oktoberfest in Big Bear is great fun.  The food is just amazing, and there are so many fun things to do with lots of great little shops and stalls to visit as well.  Grab your sweetie, and prepare to polka! Will you please pick up one of those cool little caps with the feather in it for us?
September 19-21 also sees the arrival of the 15th annual Big Bear Film Festival. This is a great event for film buffs of all stripes.  You can rub elbows with industry leaders, and there's usually some great star gazing if you can peer behind that sea of over-size sun glasses to pick out the "A" listers that fly into town for the occasion.  This is a very popular event, and you should get your tickets in advance.  This year there will be over 115 movies shown at different venues around town, and there will be a great selection of 3D films to choose from as well.  You can buy your tickets at this link.
There's really no better way to enhance your enjoyment of these September events in Big Bear than with a luxury vacation cabin or estate from Five Star Vacation Rentals.  We have assembled dozens of the finest, most luxurious properties to be found anywhere in Big Bear.  You can spend your days taking in some of the cutting edge films or sampling international beers, but spend your nights in the comfort and luxury of your Five Star Vacation Rental.  It's a perfect combination.  Spend all day on your feet having fun, and prop up your feet at night in your luxury vacation rental.  Check out our Big Bear vacation rental cabins and estates at this link.
Give us a call, and we'll be glad to book your getaway for you. Looking for a vacation somewhere else?  No problem! Check out our luxury vacation rentals in Park City,  Southern California Beaches, Mammoth Mountain, and Villa la Estancia in Nuevo Vallarta, Mexico. We realize that you get very little vacation time each year, so we're dedicated to ensuring that your time spent in one of our luxury rentals will be a great value for you and your family.  Call us today at 310-800-5454, and we'll help you plan the vacation of a lifetime.