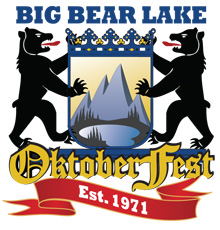 We're getting a jump on September events in Big Bear, because the month is packed with some of our most popular of the year.  If you've never visited Big Bear during September, it's a real treat as the leaves begin to turn with the evenings become cooler.  And every September we're excited to welcome back Southern California's most popular Oktoberfest celebration.
Big Bear's first Oktoberfest was celebrated back in 1971, and it grows in popularity and attendance each year.  This year's celebration commences September 14th and continues for 7 consecutive weekends through October 27th.  Many of our guests make it an annual rite of fall to reserve their favorite cabin and spend some time drinking in (literally and figuratively!) the fun and culture of the event.  Once you attend, you'll soon see why.
This year's celebration will continue the tradition of offering some of the world's finest German beers, bratwursts, sauerkraut, and apple strudel.  Big Bear prides itself as one of the country's most authentic Oktoberfests with much of the cuisine and brews created by German brewers, bakers, and butchers.  The list of tasty ales keeps expanding each year, and you can count on finding brews ranging from traditional German varieties to yummy flavored beers including lemonade, pumpkin, raspberry and more.  You haven't fully lived until you've sampled a steaming hot fresh bratwurst washed down with an icy cold authentic German beer.  If you're not drooling, check your pulse.
And you'll have plenty of opportunity to work off your meals with lots of dancing and unique shopping booths to stroll through as well.  If you've been searching for an excuse to break out your lederhosen and get down to some serious German fun, this is it.
Oktoberfest is always a busy time for us here at Five Star Vacation Rentals, so we recommend that you get your reservation in early.  And be sure to ask about a discount for weekly rentals if you want to stay longer to enjoy some of the other September events.   Check back for next Friday's blog with details about this year's Big Bear International Film Festival.
You can view all our Big Bear cabins at this link, or call us at a 310-780-3411.  We'll be happy to help you put together the ideal Oktoberfest getaway.  And while Big Bear is certainly our favorite spot to celebrate Oktoberfest, you can also enjoy great beer and fine dining at any of our other destinations including Park City, Palm Springs/La Quinta, Southern California Beaches, Mammoth Mountain, and Villa la Estancia in Nuevo Vallarta, Mexico.  Regardless of which one of our luxury getaway locations you choose, you can be assured that we're working to make sure your vacation will be one you'll want to repeat again every year.