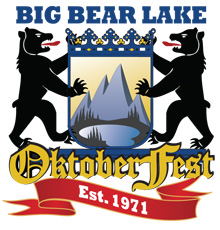 Tomorrow is the opening day of Oktoberfest, and it will continue to run through October 27th.  Have you made your plans yet?  This is one of the year's biggest events in Big Bear, and it's something that many families make a regular yearly tradition.  If you've never been, it will take just one visit to see why it is so popular.
This weekend opens with a salute to America's Heros.  Past and present military, law enforcement and fire fighters will get free admission.  There will be a special opening ceremony on Saturday night to offer thanks for the sacrifice of these brave men and women.
The fun of Oktoberfest starts each Saturday at noon with German bands, polka dances, and events for the entire family.  There can be some pretty big crowds, so here are a few suggestions to make your weekend more enjoyable.
Buy your tickets in advance
There can be a line to buy tickets during peak hours, so one quick way to get the fun started right away is buy your tickets in advance.  There are a variety of ticket prices and packages available, and you can purchase them at this link: http://www.eventbrite.com/org/1758871515?ref=eorgbtn
Come hungry!
One of the great delights about Oktoberfest is the wonderful food.  From amazingly tender pork roast to consistent favorites like the German Sausage Sandwich, you can count on finding so many food options that you'll want to stay longer just to sample more of the wonderful cuisine.  Knockwurst, bratwurst, and Polish sausage abound, and virtually every dish will be topped with generous amounts of German potato salad and sauerkraut.
For the less adventurous among you, there's also a full American menu available with hot dogs, hamburgers, french fries and the like.
Come thirsty!
There are over a dozen different beers to choose from as well as a good supply of wine too.  O'Doul's Free Shuttle will be operating each evening offering a free ride back to your cabin from the festivities.
And when you finish sampling the amazing food and drink at Oktoberfest, be sure to visit the visit the Budenstrasse (Avenue of the Booths).  These shops offer an amazing assortment of fine chocolates, beef jerky, kites, old fashion clothes, gifts and artwork.  The Avenue of the Booths is an especially big hit with the kids.  You'll find face painting, bounce houses, pony rides, and a petting zoo.
Be prepared to laugh and enjoy yourself
The entertainment never ends during Oktoberfest.  There are fun contests for the entire family as well as bands and dancing.  It's a great time for the family to just relax have some  real fun.  Sundays are family day with half price adult admission and free for children 12 and under. The Children's contests including Pretzel Eating and Boot Holding. Children's contests take place at approximately 3:00 p.m. on Sundays and are free for children.
Enjoy it all from the comfort of your Big Bear Five Star Vacation Rental Cabin
Oktoberfest is even more enjoyable when you stay in one of our luxurious Big Bear Vacation Rental Cabins.  We still have a number of cabins available, so give us a call at 310-800-5454.  We'll be happy to help you put together your first or fifteenth visit to Oktoberfest.  Browse all of our Big Bear cabins on this page.
We also have vacation rentals available  in Park City,Palm Springs/La Quinta, Southern California Beaches, Mammoth Mountain, and Villa la Estancia in Nuevo Vallarta, Mexico.  And we specialize in helping our guests create vacations with memories that will last a lifetime.