Have you booked your ski getaway yet? Big Bear has had a great ski season so far, and both Bear Mountain and Snow Summit will remain open through March. But time is growing short. Every year we have regular guests who get busy and miss their opportunity to have a ski getaway. Don't let this happen to you.
We've got some great opportunities for you to make sure this year is a great one for your family and friends to have a great getaway. Here are a few great options: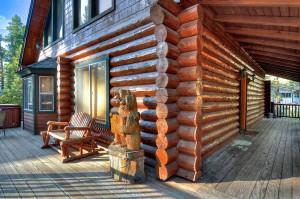 From the moment you walk up the steps and are greeted by our pair of whimsical carved bears, you'll know you're in for a treat with our Cabin #3, Five Star Snow Summit. This is located at the base of Snow Summit, and you'll be on the slopes in just a minute or two without having to hunt for parking. There's room for 9 guests in its 3 bedrooms and 2 baths. You'll love the rustic mountain decor, and will enjoy relaxing in the hot tub after a long day on the slopes. It's also a short way from The Village with its unique shops and restaurants. See more photos and details, and book online at this link.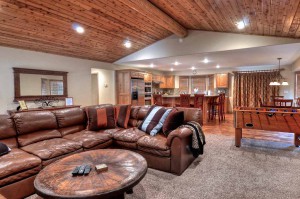 Located next door to Cabin #3 is our Cabin #9, 4 Bedroom Summit. This luxury cabin has 4 bedrooms with 2.5 baths with room for 11 guests. The slopes are adjacent to this one as well, so you skip the driving around looking for a parking space and walk right over to start skiing. Enjoy a game of pool or some foosball, and be sure to feel how relaxing the hot tub is after a day on slopes. Combine this with Cabin 3 and you'll have room for 20 people to enjoy your getaway. Check out more photos and details or book online at this link.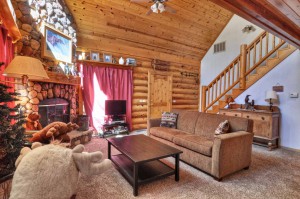 But wait, there's more. We also have a third cabin adjacent to these first two. Do you have a group of 25 or so looking for a fun ski getaway together? Our Cabin #16, Pine Lodge Outdoor Spa is right next to the first two above, and with this one, you'll also enjoy having the slopes at Snow Summit just moments from your door. You'll also enjoy the short drive to the Village for its great shops and nightlife. And time spent relaxing in the spa during the chilly evenings under the stars will be a memory you'll long cherish. Choose just one of these cabins or all of them for your extended family, church group, or office ski party. Click here for more info on this one.
Your next ski getaway can start by viewing all of our Big Bear vacation rental cabins and luxury estates at this link.  Or give us a call at 310-780-3411, and we'll help you choose a great property for your perfect holiday getaway.  And if you'd like to explore any of our other destinations, you can be assured that we're committed to providing top quality cabins, estates, and condos for your next vacation getaway.  We have offices in Newport Beach and Big Bear. Here are links to our properties in Nuevo Vallarta and La Quinta.