In addition to all the great skiing, there are plenty of other great things to do during March in Big Bear. Here are just a few things you'll enjoy during your stay with us.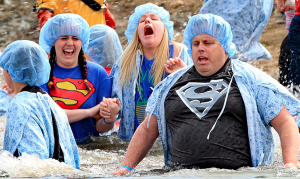 If it's March in Big Bear, it's time to freeze your fanny with the annual Polar Plunge Saturday, March 7 to raise funds for Special Olympics Inland Empire. For just a minimum of $50, you can participate in the coolest event of 2020 – the Polar Plunge. Not only will you brave the cold waters, but you'll have the opportunity to earn incentives, party with friends, and be freezin' for a reason to help support Special Olympics. Join the Polar Plunge Registration Party at Santana & Mavericks from 6 – 9 PM and get to know your fellow plungers! 40771 Big Bear Blvd.. More details here.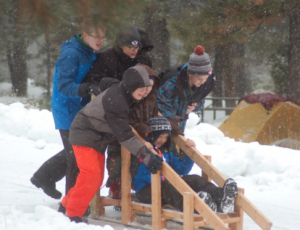 The 16th Annual Bear Mountain Scout Weekend will take place on March 7-8, 2020. This offer is available to active Boy Scouts and Girl Scouts. All scouts participating on Scout Weekend will receive a Bear Mountain Scout Weekend Patch 2020.
Give your Scout the opportunity to test their knowledge and on-hill skills while earning their Snow Sports Merit Badge at Bear Mountain's annual Scout Weekend. BSA Merit Badge counselors will be on hand to evaluate Scouts and help them work towards Merit Badges. To participate, Scouts must bring their Snow Sports Merit Badge completed workbook and Blue Cards.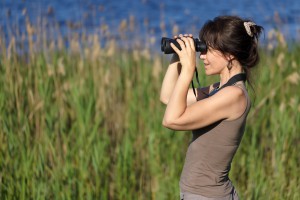 Enjoy the Discovery Center Nature Hikes every Saturday and Sunday in March. Meet the volunteer at the trailhead noted on the schedule. Volunteers can be identified by their green shirts. No registration is required and guided hikes are free. In the event of inclement weather, the hike will be canceled. Hikers are advised to wear layers in the winter months and good hiking boots. Be sure to bring water and an Adventure Pass to park at any trailheads. Passes may be purchased at the Big Bear Visitors Center. More details at this link.
You can start your next getaway by viewing all of our Big Bear cabins and luxury estates at this link.  Or give us a call at 310-780-3411, and we'll help you choose a great property for your perfect holiday getaway.  And if you'd like to explore any of our other destinations, you can be assured that we're committed to providing top quality cabins, estates, and condos for your next vacation getaway.  We have offices in Newport Beach and Big Bear. Here are links to our properties in Nuevo Vallarta and La Quinta.