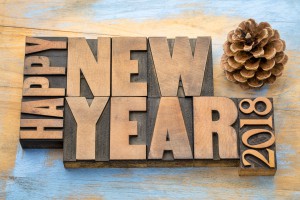 Happy New Year from Five Star Vacation Rentals. Welcoming in a New Year is always exciting. We've grown accustomed to this change as a representing much more than a new day. It's a symbol of new beginnings, and one that we greet with resolutions, renewed hope, and excitement about the opportunities that we expect to see.
No set of New Year's resolutions would be complete without including a plan for your upcoming vacation time. Whether it's planning a romantic weekend for your anniversary or a longer getaway for a family vacation, we encourage you to use our online booking to find a great choice for your Big Bear relaxation.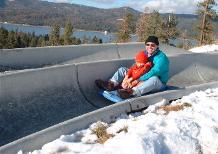 Winter in Big Bear offers some great activities. While we haven't seen a lot of snow yet this year, it's been plenty cold, so the ski resorts are making snow nightly, and there's a good base built up. Snowboarders will have a great time. Nearby you can also enjoy the Big Bear Alpine Slide with downhill runs in individual sleds. It's a great time.
But we're convinced the best time you'll have during your stay in Big Bear is in your Five Star Vacation Rental cabin, estate, or condo. Winter in Big Bear is amazing, and many of our cabins have great lake and mountain views. Choose one with a hot tub, and you have have the enjoyment of relaxing in the chilly Big Bear evenings while you soak in your own personal hot tub on the deck. It's an amazing feeling.
Maria and Kevin Cobb have been hosting guests at luxury vacation rental properties for nearly 20 years. Our goal is always to create a pampered feeling that will enhance your visit to Big Bear. View all of our Big Bear cabins and luxury estates at this link.  Or give us a call at 310-780-3411, and we'll help you choose a great property for your perfect holiday getaway.  And if you'd like to explore any of our other destinations, you can be assured that we're committed to providing top quality cabins, estates, and condos for your next vacation getaway.  We have offices in Newport Beach and Big Bear. Here are links to our properties in Nuevo Vallarta, Mammoth Mountain, Park City, Southern California Beaches, and La Quinta.