Summer break is almost here for most families with kids in school, and it's a great time to start planning something special for the summer break. If you don't make any plans, you may end up watching summer slip away and you'll lose your chance for some special family time.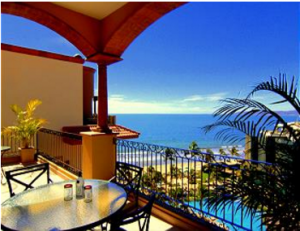 While Big Bear is our most popular getaway, we also have some great opportunities for relaxation in Mexico. Our seaside resort at Villa la Estancia is consistently a favorite with our guests. Take a look at these photos, and you'll see why.
The resort sits right on the sandy beach, so you'll have a quick walk from your room directly to the beach. Of course you'll be immediately faced with a dilemma as you pass by the huge swimming pool with its swim-up bar and comfy lounge chairs. Once you decide that you'll try out the heated pool later and continue heading toward the refreshing surf just beyond the beach, you'll feel a smile start to cross your face. The beach continues about as far as you can see, and the gentle sounds of the surf and birds help to create a level of relaxation you just can't get anywhere else.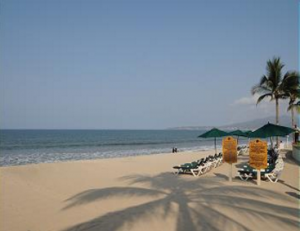 When you're ready to head back to the resort, you have more fun choices to make. Will you dine at one of the fine onsite restaurants, take the short trip into Puerto Vallarta to enjoy some local cuisine, or will you take advantage of the full kitchen in your Five Star Vacation Rental to create something fresh you cook yourself? Each of these is a great option, and you'll likely want to try all three at different times during your stay.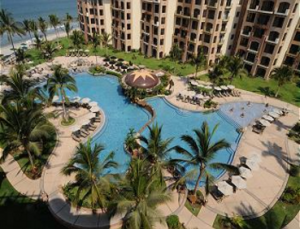 We have over a dozen luxury units at Villa la Estancia, and we can configure the units for groups from just a couple to 10 guests, and larger groups can rent more than one unit to keep everybody in close proximity. Villa la Estancia is a quick flight away from Southern California, but it's a world away in luxury and sheer relaxation.
You can view all of our Nuevo Vallarta condos and book online at this link. You can also have a great family holiday in  Big Bear, Mammoth Mountain, Park City, Southern California Beaches, and La Quinta. No matter what city you are visiting, staying in a Five Star Vacation Rental property will ensure that you experience the absolute best in luxury accommodations. We would be glad to help you plan your holiday in Big Bear or elsewhere, so if you would like more information, you can reach out to us by calling 310-780-3411.