In our blog last week, we took a look at some of the great options you have for your large group to enjoy a luxury getaway with a Five Star Vacation Rental in Big Bear. This week we're going to head in the opposite direction an offer some great options for your next intimate getaway to help you set a romantic mood, or just spend some quality time relaxing together.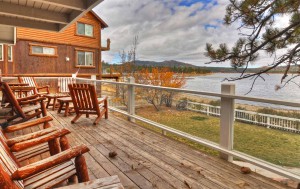 If your idea of relaxation includes sitting on the deck off the master suite and enjoying an unobstructed view of the lake spread out before you, our Cabin 5 will be a great choice. This cabin is built with special attention paid to luxury furnishings and windows looking out on the panoramic lake views. It has an oversize spa for relaxing, and the gourmet kitchen will surely inspire your culinary talents to cook up something wonderful during your stay. A stunner during any season, this one is sure to give you a relaxing time and a true sense of being pampered.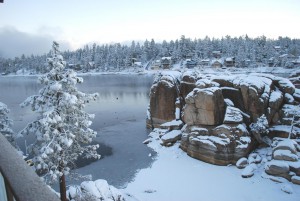 Keeping with our lake-view motif, we also recommend our Cabin 23, Boulder Cove Estate. Nestled amidst the dramatic rock outcroppings of Boulder Cove, the views from this property are unequalled anywhere in Big Bear. Truly panoramic views of the lake are found throughout the property. You'll delight in the leather furnishings and attention to detail found throughout the decor. Choose the relaxation you want from enjoying a movie with theater sound on the flat screen, relaxing in the hot tub, or just spending a quiet evening together in front of the fireplace. You'll delight in the time you spend here.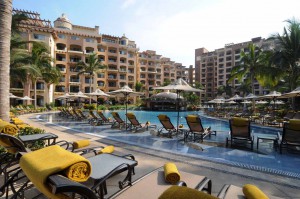 If you're in the mood for a truly exotic getaway, we recommend you consider booking your romantic retreat to Villa la Estancia, our resort on the beach in Nuevo Vallarta, Mexico. You'll be just footsteps away from the surf, and enjoy a truly resort experience. The on-site restaurants offer the best fine steaks and seafood. Choose one of our sea-side rooms, so you can wake up each morning to the sea breeze and end each day with a sunset. There are championship golf courses nearby, and wonderful shopping and local cuisine in nearby Puerto Vallarta.
Maria and Kevin Cobb have been hosting guests at luxury vacation rental properties for nearly 20 years. Our goal is always to create a pampered feeling that will enhance whatever event prompted you to choose one of our properties. View all of our Big Bear cabins and luxury estates at this link.  Or give us a call at 310-780-3411, and we'll help you choose a great property for your perfect holiday getaway.  And if you'd like to explore any of our other destinations, you can be assured that we're committed to providing top quality cabins, estates, and condos for your next vacation getaway.  We have offices in Newport Beach and Big Bear. Here are links to our properties in Nuevo Vallarta, Mammoth Mountain, Park City, Southern California Beaches, and La Quinta.