We love talking to guests and learning about their plans. Over the years, we've hosted weddings, honeymoons, family reunions, church retreats, and lots of just plain family fun. It's always a delight to help people find the right property for their getaway, and we're going to take a look at a couple of our guests' favorites.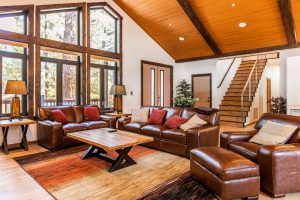 Cabin 49 is a recent addition to our family of properties. We call it the "Brand New San Gorgonio Lodge." It was built in 2019 and sits on a treed lot within a 10 minute walk of Snow Summit. It has 4 bedrooms and 3.5 baths with room for 12 guests. Its great room has a wall of windows looking out on the forest, and there are plenty of comfy places to relax near the fireplace. There's a slipper bathtub in the master suite just waiting for you to slip in and feel all your stress dissolve away. The wood accents and live edge counters will be a constant reminder of the beautiful forest just outside. Click here for more details and to book online.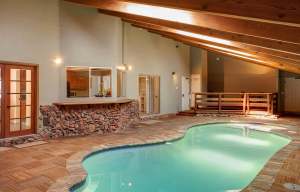 As the colder weather starts moving in to Big Bear, one of our personal favorites is Cabin 12, "Indoor Pool and Spa at Beautiful Lakeside Retreat." As the name reveals, this cabin boasts an indoor pool and spa. As your family splashes around in the private pool, be sure to tell the kids how when you were their age, you had to walk all the way to the city pool and share it with a hundred other kids. And then splash them a bit just  for fun. It's sure to be a getaway you all remember and will want to repeat. Check for available dates, get more info, and book online at this link.
Your next relaxing getaway can start by viewing all of our Big Bear vacation rental cabins and luxury estates at this link.  Or give us a call at 310-780-3411, and we'll help you choose a great property for your perfect getaway.  And if you'd like to explore any of our other destinations, you can be assured that we're committed to providing top quality cabins, estates, and condos for your next vacation getaway.  We have offices in Newport Beach and Big Bear. Here are links to our properties in Nuevo Vallarta and La Quinta.