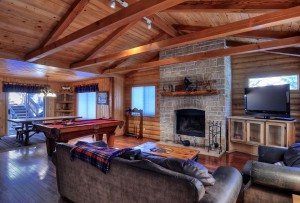 When your family decides to plan a vacation getaway, what are the most important elements?  It varies a bit from family to family, but there are some common features that pretty much every family wants. In this week's blog, we're featuring our Big Bear vacation rental, "Slope Side at Bear Mountain," and we're sure it'll hit the mark for even the most demanding members of your family.
For starters, it's located in Big Bear — our number one vacation destination.  Big Bear has more to offer for a vacation rental than you can possibly experience in a single weekend or even a full week's vacation.  As the winter approaches, winter sports start taking center stage, and our Cabin #1 is ideally situated to take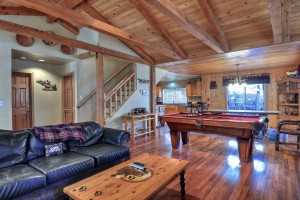 full advantage of the snow activities.  It's just a 2 minute walk to the slopes at Bear Mountain.  Can you imagine rolling out of bed, enjoying a nice breakfast with your family, and then walking a couple minutes to a great day skiing? For many of our guests, it's a dream come true.  And this cabin is ideal for extended family and friends. It has room for up to 13 guests, and a big 7 person spa to relax after your day on the slopes.  It has 4 bedrooms and three baths with a set of bunk beds the kids will enjoy.  It's also a short drive into The Village, so you can spend some of your downtime shopping and enjoying the local cuisine. But we think you'll have the best time just relaxing in this Big Bear Vacation Rental.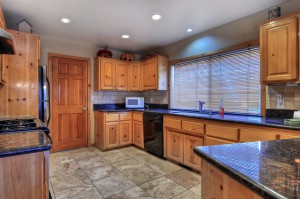 But you may choose to take all your meals in once you get a look at the fully-equipped kitchen.  You'll find everything you need to create wonderful meals.  And since you run the kitchen, you get to choose your favorite foods cooked exactly the way you want.  Best of all, there's no waiting for a free table in a loud restaurant, and there's no need to tip the staff (unless the kids help out, and you want to reward them!). It's a wonderful family time in a beautiful home nestled amid the trees adjacent to the slopes.
View more photos and details at this link.  You can book online, or give us a call at 310-780-3411 for more details on this or any of our other Big Bear vacation rentals.  At Five Star Vacation Rentals, we're dedicated to offering the best quality cabins and estates, so you can just relax and feel pampered during your stay with us.  We strive to make sure the hardest part of your visit will be when you have to pack up and go back home.