If you've ever been tasked with planning a getaway for a large group, you're likely very aware of some of the severe challenges involved. Most groups have specific needs that you need to factor in, and these often make the search more difficult. You're going to want to locate accommodations that will have your group staying near each other. Reserving several rooms at a hotel may still see your group spread across different floors or buildings. Some in your group may be traveling with kids, and that creates another challenge. And when it comes to meals, the planning escalates trying to arrange for everyone to meet up and plan transportation to nearby restaurants. It can be a real nightmare.
Choosing a luxury property from Five Star Vacation Rentals can resolve many of these issues. We can certainly save you quite a bit of stress, and we may even save you some money over the cost involved in reserving rooms for a large group. Here are a few good examples for your next getaway for a family reunion, church or work group: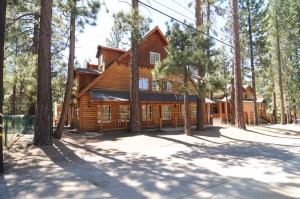 Our Cabin #29  Chalet Summit is ideally suited for large groups up to 16 with 9 bedrooms and 9.5 baths. 8 of the bedrooms are master suites with their own private baths, so you can see how this will be perfect for multiple families to share. It's only 2 blocks from Snow Summit, so during ski season this can be an economical way for your ski group to share expenses and enjoy some amazing luxury in the process.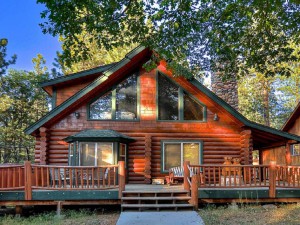 If you have an even larger group up to 26, our Cabin #23 is actually three cabins side-by-side with 10 bedrooms and 6.5 baths. This group of cabins offers a great option for larger groups, since you'll also enjoy 3 kitchens and 3 entirely separate living areas. Family reunions and groups with lots of kids will really enjoy this one. Set the kids up in one of the cabins and just rotate adults in and out to keep an eye on them while the rest of you can enjoy some relaxing time together.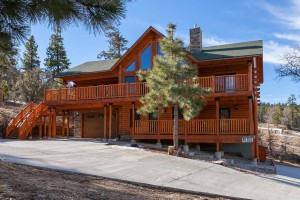 Your large group of up to 28 should also consider another pair of our adjacent cabins we list as Cabin #11 and is actually our adjacent Cabin 15 and Cabin 20. These are both impressive properties, and you'll be delighted with you stay here. You'll have a total of 11 bedrooms with 7.5 baths combined. And you'll also have the added benefit of two entirely separate living areas and kitchens, so it's easier to split cooking duties or set the kids up in one cabin and let the adults enjoy some quality time together during your stay.
Maria and Kevin Cobb have been hosting guests at luxury vacation rental properties for nearly 20 years. Our goal is always to create a pampered feeling that will enhance whatever event prompted you to choose one of our properties. View all of our Big Bear cabins and luxury estates at this link.  Or give us a call at 310-780-3411, and we'll help you choose a great property for your perfect holiday getaway.  And if you'd like to explore any of our other destinations, you can be assured that we're committed to providing top quality cabins, estates, and condos for your next vacation getaway.  We have offices in Newport Beach and Big Bear. Here are links to our properties in Nuevo Vallarta, Mammoth Mountain, Park City, Southern California Beaches, and La Quinta.