Are you dreaming of a white Christmas? Well, if you're dreaming of a white Christmas in Big Bear, we're ready to help you make that happen. We've still got a handful of cabins and estates available for Christmas, but we're almost certainly going to be booked solid, so you'll need to hurry if you want to make this happen for your family.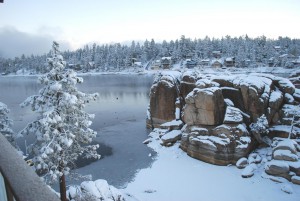 We're excited that snow is already falling in Big Bear, and the ski slopes are open. This means your Christmas visit to Big Bear can include some fun skiing, snow boarding, or just having some fun family snow play. And there's really nothing quite like having the family wake up on Christmas morning to a snow-covered landscape outside. If conditions allow, you may even have get the chance to build your family's first snow man. And that is a moment most kids will remember for the rest of their lives.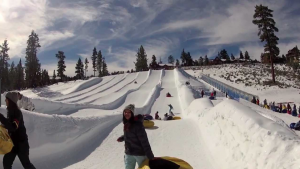 Big Bear Snow Play is one of Big Bear's most popular winter attractions. It features one of Big Bear's biggest slopes, and is the go-to destination for inner tube downhill fun.  They've also got a "Magic Carpet" ride to get you from the bottom of the long slope all the way to the top without losing your breath. They're open daily from 10am – 4pm with evening hours on the weekends. They're even open on Christmas day from 11am to 4pm. If you've never experienced the thrill of racing down a slope on a tube, it's a thrill you're definitely going to enjoy.
Time is running out to plan your white Christmas in Big Bear.  You can do your own custom search for the specific dates you'd like to stay on our Big Bear page. Or give us a call at 310-780-3411, and we'll help you choose a great property for your perfect holiday getaway.  And if you'd like to explore any of our other destinations, you can be assured that we're committed to providing top quality cabins, estates, and condos for your next vacation getaway.  Here are links to our other properties in Nuevo Vallarta, Mammoth Mountain, Park City, Southern California Beaches, and La Quinta.