With Thanksgiving behind us, many families are starting to make plans for their family get together for Christmas. We're usually booked solid, so we wanted to give our blog readers a heads up on some of the properties that are still available for your Christmas in Big Bear. Here are a few of the choices you have as of this moment. This selection will be changing as more bookings come in.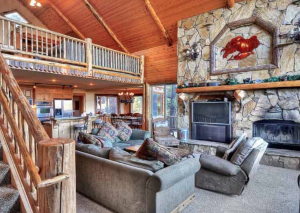 Cabin #6, Talmadge Lodge is a great choice. It has 5 bedrooms, 4 baths, and room for 16 guests. This is a 3 story estate with views of the lake and mountains. It's a short walk to both the lake and village making it a great choice for your family's Christmas gathering. Spend evenings relaxing in the spa, playing pool, or having a family foosball tournament. It boasts a true chef's kitchen with double ovens and granite counters. Book online at this link.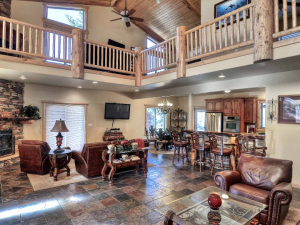 Cabin #10, Bald Eagle Lodge is a 4 bedroom, 2.5 bath cabin spread out over 3300 square feet with room for 14 guests. You'll enjoy the lake views, and will find lots of great family fun with the pool table and spa. It's in a great location where you can walk to the lake or enjoy a short drive to either of Big Bear's ski slopes, and a snow play area is just a mile away. Check out more photos and details or book online at this link.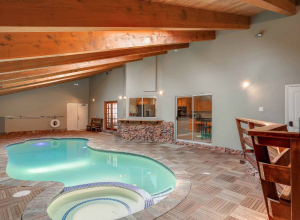 Cabin #12, Beautiful Lakeside Retreat is a great choice for families that want to stay active during their stay. With its year-round indoor swimming pool, this can be an amazing time for your family. Imagine a chilly December morning starting the day with a brisk swim in your pool, and follow up with some time on the slopes. Where else can you do that? There's room for 16 guests in its 4 bedrooms and 4.5 baths. Check out more info at and book online at this link.
You can do your own custom search for the specific dates you'd like to stay on our Big Bear page. Or give us a call at 310-780-3411, and we'll help you choose a great property for your perfect holiday getaway.  And if you'd like to explore any of our other destinations, you can be assured that we're committed to providing top quality cabins, estates, and condos for your next vacation getaway.  Here are links to our other properties in Nuevo Vallarta, Mammoth Mountain, Park City, Southern California Beaches, and La Quinta.