We understand last minute changes and scrambling to accommodate more guests. This time of year we get those calls every day. It's usually exciting, though. The joy of this season is always magnified by having more friends and family around us. Last minute calls with an excited voice declaring, "Hey! I got some time off work, so I'll be there for Christmas!" are the best kind to get. And with Five Star Vacation Rentals, we can help you gather all these important people together under one roof without resorting to spreading old mattresses around the living room or setting up a tent in the backyard.
As we write this on Friday morning, December 15th, we still have a handful of luxury Big Bear vacation rentals available with Christmas as part of your stay. Some will require minimum stays that will include days before or after Christmas, so call us at 310-780-3411 or check the individual calendars of each of these. Just click on the photo to view more details and book online: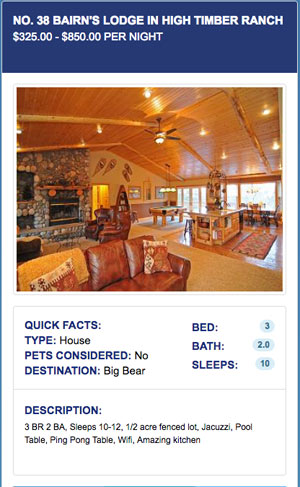 Kevin and Maria Cobb have been your hosts at Five Star Vacation Rentals for nearly two decades. Our personal dedication to creating a luxury experience for all our guests is something that keeps them returning year after year.
View all of our Big Bear cabins and luxury estates at this link.  Or give us a call at 310-780-3411, and we'll help you choose a great property for your perfect holiday getaway.  And if you'd like to explore any of our other destinations, you can be assured that we're committed to providing top quality cabins, estates, and condos for your next vacation getaway.  Here are links to our other properties in Nuevo Vallarta, Mammoth Mountain, Park City, Southern California Beaches, and La Quinta.