Thanksgiving is one of our favorite times of year. For many of us it's a time devoted to gathering as many family and friends together to enjoy each other's company and reflect on the many things we have to be thankful for.  It's a perfect time to gather the family and escape to a Five Star Vacation Rental for some very good reasons.
Many of us have childhood memories of being shuffled off to various sofas and spare rooms to make room for visiting relatives. This usually meant long waits for overworked bathrooms and eating in shifts to accommodate the extra guests. The stories are often fond memories, but there are better ways to make lasting memories. And with Five Star Vacation Rentals, we've got some great options to keep your extended family and friends feeling pampered while you all enjoy spending time together over the long Thanksgiving weekend.
We're still about a month out from Thanksgiving, and most of our properties are already booked. But as we write this, there are still several great options that can prove to be a great gathering place for your family over this year's Thanksgiving turkey.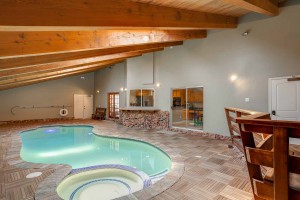 While people around the country are pulling out their winter clothes, how about treating your family to a long weekend with your own indoor heated pool and spa? It sounds almost decadent, but it's certain to be a Thanksgiving that everybody in your group will remember with a smile. Our Cabin #12 has 4 bedrooms with 4.5 baths and room for 16 guests. The kids will love the bunk beds. The kitchen has big windows that look out to the indoor pool, so you can keep an eye on the kids while you prepare the Thanksgiving feast. Hurry, because this one won't last. Book online and view more photos and details at this link.
Our Cabin #32 also has room for 16 guests with 5 bedrooms and 4 baths. It has dual master suites, so it's a great choice for multiple families or to pamper grandma and grandpa during their visit. Its kitchen is perfect for preparing your Thanksgiving feast, and you'll all enjoy the many luxury touches with the beamed cathedral ceilings and subdued lighting. Built to enhance your relaxation, we're confident this luxury cabin will be a perfect place for your family to gather on Thanksgiving. Hurry to book this now at this link. If this one is already taken, you can search for others at this link.
Check out all our Big Bear vacation rentals at this link, and if you're interested in spending Thanksgiving elsewhere, check out our vacation rentals in  Nuevo Vallarta, Mammoth Mountain, Park City, Southern California Beaches, and La Quinta. No matter what city you are visiting, staying in a Five Star Vacation Rental property allows you to experience the absolute best in luxury accommodations. We would be glad to help you plan your getaway to Big Bear or elsewhere, so if you would like more information, you can reach out to us by calling 310-780-3411.