We're always excited when we add new properties to our family of luxury cabins and estates. And this feeling is increased when we add 5! Check out these new additions: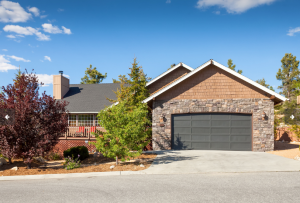 Cabin 36 in Big Bear meets and exceeds our standards of luxury. With its whimsical furnishings and wonderful flooring and finishes, you'll be thrilled to relax here. The view from the deck is amazing, and you'll be literally soaking it in as you relax in the spa surrounded by the forest view. It has 3 bedrooms and 2 baths with room for 9 guests. See more photos and details at this link.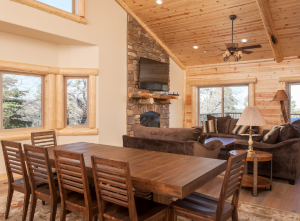 Our new Cabin #7 has 3 bedrooms, 2.5 baths with room for 10 guests. This is new construction just completed last year, and it spreads out over 2500 square feet of luxury. It offers lots of privacy and plenty of wood finishes to help you truly immerse yourself into the Big Bear experience. Enjoy the great forest views off the deck as you get some much needed time to recharge your batteries. More photos at this link.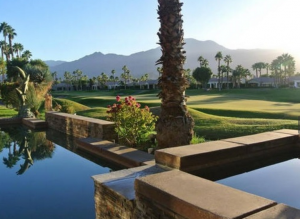 Ready for some serious golf time? Well, pack your bags and your clubs and head to our newest addition in PGA104 Luxurious PGA West overlooking the fairway in La Quinta. This amazing property boasts 4000 square feet with a separate casita that will be a delight for the kids or perfect for 2 families to share. It has a total of 5 bedrooms and 4.5 baths with room for 12 guests.  In addition to the fairway views, you'll be looking out on Santa Rosa Mountain as well. Three of the bedrooms are master suites, so the only problem with your stay may be getting the desire to actually leave this beautiful estate. Check out all the photos and book online at this link.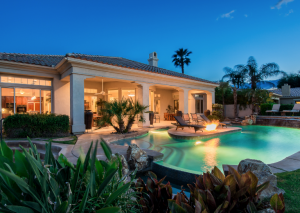 Want room for a bigger group with matching luxury? We just added this amazing 4300 square foot La Quinta estate on the golf course with a wonderful pool and spa to enjoy.  The Travertine flooring and stone fireplace are wonderful examples of the fine craftsmanship you'll enjoy throughout this remarkable property. After a full day on the links, you can retreat to this oasis and enjoy a dinner you create in the gourmet kitchen or throw some steaks on the barbecue. You'll have a hard time leaving this one when your stay is done. More photos and online booking at this link.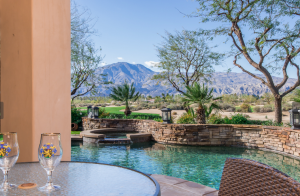 Our new PGA102 Luxury PGA Norman Hideaway is a great choice for the serious golfer who wants to make sure everybody in their party has a great time even if they don't golf. It has room for 10 guests with 4 bedrooms and 4.5 baths.  It overlooks the Greg Norman golf course with the scenic Santa Rosa Mountains in the background. The main living area has a bank of windows so you'll be enjoying the amazing view constantly as you enjoy your stay. The pool and spa promise to keep everyone in your group refreshed and happy with their time spent at this amazing estate.
Check out all our La Quinta vacation rentals at this link, and if you're in the mood for a getaway elsewhere check out our vacation rentals in  Nuevo Vallarta, Mammoth Mountain, Park City, Southern California Beaches, and Big Bear. No matter what city you are visiting, staying in a Five Star Vacation Rental property allows you to experience the absolute best in luxury accommodations. We would be glad to help you plan your getaway, and  you can reach out to us by calling 310-780-3411.