The Big Bear ski season is in full swing, and we're running near capacity most weekends. We've still got lots of availability during the week, however, and that's a great option for people who can arrange their schedules around it. The slopes are definitely less crowded, and many of our properties have lower weekday rates. Check out our Big Bear properties at this link.
But if your family is in the mood for something completely different, we recommend you take a look at our amazing La Quinta vacation rentals in the desert near Palm Springs. The desert is perfectly delightful this time of year, and the golfing is great. Take a look at a couple of our luxury options for your enjoyment: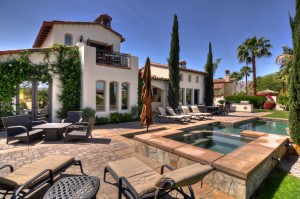 Our PGA107 is a great example of the type of quality and luxury we have available. This one always reminds us of a Hollywood mansion from the 1940's. It has soaring open beam ceilings and arched doorways over custom flooring. The salt water pool and spa are perched overlooking a water feature on the Greg Norman course. It has a private upstairs bedroom with its own private deck for quiet mornings or evenings relaxing in the sun. The floor plan is spread out over 4600 square feet with room for 12 guests in its 5 bedroom 5.5  baths. Add in the chef's kitchen with granite counters, and you'll soon see why this one is so popular. Check out more photos and details or book online at this link.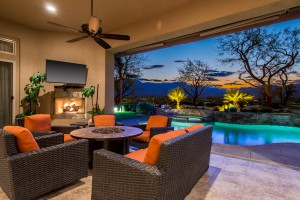 The view will keep you captivated at PGA102. Its southern exposure stretches across the Greg Norman course to the stunning Santa Rosa mountains beyond. There's room for 10 guests in its 4 bedrooms and 4.5 baths. You'll enjoy cool evenings in relaxing in the pool and spa as you watch the colors of the sunset play across the sky. The private casita makes this one perfect for larger groups or multiple families to share. Check out more photos and book online at this link.
You can book your stay online or view all of our La Quinta properties at this link.  Or give us a call at 310-780-3411, and we'll help you choose a great property for your next vacation or getaway.  And if you'd like to explore any of our other destinations, you can be assured that we're committed to providing top quality cabins, estates, and condos for your next vacation getaway.  Here are links to our other properties in Nuevo Vallarta, Mammoth Mountain, Park City, Southern California Beaches, and Big Bear.