There's a lot to like about living in Southern California. Though we seldom get the kind of temperature extremes seen in many other areas of the country, it does get a bit chilly in the months leading up to Spring.  This can be a bit frustrating for those of us who love spending time on the beach. It can take a bit of the enjoyment out of the experience when the weather turns cold. But we've got a great solution, so you can have your beach and warm weather too.  Plan your March vacation in Nuevo Vallarta, Mexico, and you'll see why it's one of the most desirable times to visit.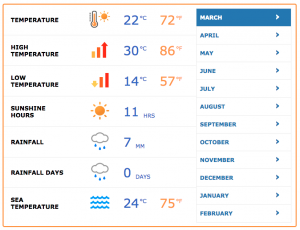 Our resort at Villa la Estancia sits right on the beach in Nuevo Vallarta, Mexico and March weather here is a beach-goer's delight. The average temperature is in the 70's with highs in the 80's and lows in the 50's. And the water temperature is positively delightful. March typically sees the ocean temperature hovering around 75° making for some of the most enjoyable ocean swimming you'll find. By comparison, the beach ocean temperatures off the coast of Southern California seldom reach 70° and hover in the 50's during March. A quick plane trip, and you can feel the sand beneath your feet and take a refreshing swim without getting a bad case of the shivers in the process.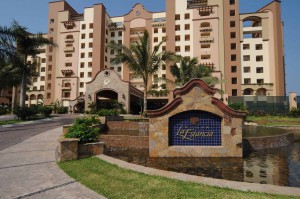 Though you may be tempted to spend most of your time laying on the beach or swimming, our Villa la Estancia resort and nearby Puerto Vallarta offer so many things to do, you'll have some serious conflicts to resolve. Villa la Estancia boasts a world-class spa on site that will pamper you beyond belief. They have a lengthy menu of spa services that will target whatever stresses you, and provide an amazing level of relaxation.
Puerto Vallarta is a quick cab ride away, and offers a colorful and vibrant experience with a uniquely local flavor. There are great shopping destinations for a variety of options to pick up souvenirs, locally-sourced arts and crafts, and some of the most amazing seafood and ethnic cuisine.
Kevin and Maria Cobb were guests at Villa la Estancia before they decided to invest in the luxury condos on the beach there. They have been hosting guests at luxury vacation rental properties for nearly 20 years. Our goal is always to create a pampered feeling for all our guests. View all of our Big Bear cabins and luxury estates at this link.  Or give us a call at 310-780-3411, and we'll help you choose a great property for your perfect holiday getaway.  And if you'd like to explore any of our other destinations, you can be assured that we're committed to providing top quality cabins, estates, and condos for your next vacation getaway.  We have offices in Newport Beach and Big Bear. Here are links to our properties in Nuevo Vallarta, Mammoth Mountain, Park City, Southern California Beaches, and La Quinta.