We know you're still rushing around getting ready for Christmas, but you may want to take a moment out and think about making this New Year's celebration one that you'll remember for a long time.
Big Bear has always been a popular destination for New Year's revelers. There's usually a good amount of snow for the skiers and downhill sledding fans. Most of the major attractions in Big Bear are a short drive from many of our cabins, so you can enjoy a nice meal in the Village, and head back to your luxury vacation rental to watch the ball drop on Times Square.  Here are a few more advantages to consider.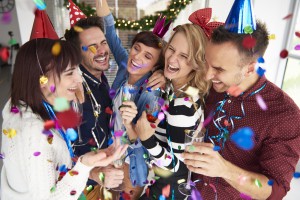 Have a safe, fun place for your party.
Your Five Star Vacation Rental is the perfect destination for your group or multiple family New Year's celebration. We have properties big enough to handle most groups. Some of our cabins sleep up to 15 guests. And with your rental, you have the peace of mind knowing that all your guests can enjoy themselves without worrying about going out on the road to get home. They can just wander down the hall and sleep safely and comfortably in your Big Bear vacation rental.
Arrive early or stay late to enjoy more of Big Bear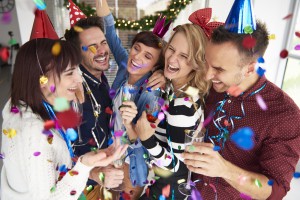 Winter is a magical time in Big Bear, and you can enhance your New Year's celebration by including some time to enjoy the local scene. Bear Mountain and Snow Summit have some of the best skiing around, and there are also plenty of downhill sites to have fun with your sled or inner tube. Just adding a couple extra days for quiet time in front of the fireplace or in the hot tub can greatly increase the enjoyment of your stay us.  Make time for an evening in Big Bear Village to include a great meal at one of the restaurants and a leisurely stroll among the fun shops. Whether you're looking for a romantic getaway or some quality family time, your time away should be as relaxing as it possibly can be, and this is sure to help.
Check out all our Big Bear vacation rentals at this link, and if you're in the mood for a getaway elsewhere check out our vacation rentals in  Nuevo Vallarta, Mammoth Mountain, Park City, Southern California Beaches, and La Quinta. No matter what city you are visiting, staying in a Five Star Vacation Rental property allows you to experience the absolute best in luxury accommodations. We would be glad to help you plan your getaway to Big Bear or elsewhere, so if you would like more information, you can reach out to us by calling 310-780-3411.