We're getting amazing snow in Big Bear right now.   March is upon us, and the skiing is better than ever.  But it can't last forever; Spring is right around the corner. You don't want to look back at this time once May rolls around realize you wasted one of your last chances to hit the slopes.  The conditions right now are great.  Don't put this off any longer.
We imagine nobody will be surprised to learn that we're in favor of the 4 day work week as long as you plan the other 3 days in one of our luxury Big Bear vacation rentals.  We're also in favor of using some of those accumulated vacation days you have in reserve.  And we're continually proposing that our guests just take a few days for relaxation in the mountains.  Call it personal days, impersonal days, or an out of town excursion that involves absolutely no work whatsoever.  This is a perfect time for some days on the slopes and some nights relaxing in a Five Star Vacation Rental in Big Bear.  Order your lift tickets in advance and save some money with this link: http://www.bearmountain.com/snowboard/rates/lift-tickets/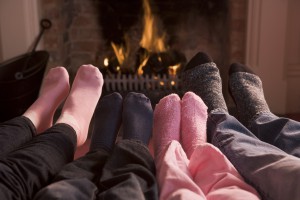 Our weekday bookings are usually much lighter than the weekends, and the same applies to the slopes at Bear Mountain and Snow Summit.  Get more time in on the slopes, and enjoy a wider choice of cabins for your time off the slopes.  As if that wasn't enough, you'll find even the best restaurants in the Village will seat you immediately.  It's a great chance to unwind.
After a fun day on the slopes or in the Village, you can look forward to the evenings in your Five Star Vacation Rental. You'll find each of our properties to be a luxurious delight. Cozy up in front of the fire and just relax with your family. Choose one of our properties with a hot tub, and that's another great spot to end the day.
Check out all of our Big Bear vacation rentals at this link.  And if you're in the mood for a getaway elsewhere, follow these links to view our other properties in Park City,  Southern California Beaches, Mammoth Mountain, and Villa la Estancia in Nuevo Vallarta, Mexico.  A well planned weekend away in a Five Star Vacation Rental cabin or estate will recharge your batteries and equip the entire family for the challenges back at home.   Call us today at 310-800-5454, and we'll help you plan the vacation of a lifetime.