Summer is in full swing, and it's time to head up to Big Bear for some great family fun.  July is one of our favorite months on the mountain, because there's so much going on.  Here's just a sample of the fun you'll have when you book your July getaway in one of our Five Star Vacation Rental luxury estates and cabins in Big Bear:
July 4th Celebration
Each year Big Bear hosts one of California's largest fireworks displays, and it's really an amazing event.  We all love a good fireworks show, but combine that with the beautiful reflections off the lake and the towering pines that ring the horizon, and you'll soon see why so many people make this short trek every year.  The weather in July is usually great, and you can enjoy a relaxing time away from the heat and smog of the Southland while taking in one of our favorite patriotic holidays.
Take In a Show
Perhaps America's most popular classic play, Rogers & Hammerstein's "Oklahoma" is playing throughout July at the Big Bear Performing Arts Center. This play is great for the entire family, so grab your surrey, and make your way through corn that's as high as . . . well you get the picture! For more details:  http://www.bigbeartheater.org.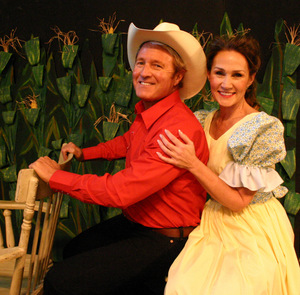 Get Down With Some Bluegrass Music
Big Bear Bluegrass Festival runs July 12, 13 & 14, this year, and offers some of the best boot-stompin' music to be found anywhere. The festival features fun hayrides and more than a few colorful characters wandering about in overalls with washboards. You'll be amazed at the great music that can be created with utensils and laundry accessories! This is another event tailor made for the whole family, and we expect that you'll all be dancin a jig quite soon after the music starts. See more info on their website at http://www.bigbearbluegrass.com.
Boating, Fishing, Hiking, Biking . . .
Summer explodes with outdoor activities, so you'll want to bring comfortable shoes, and plan on spending lots of time exploring.  the Big Bear Zoo continues to offer special activities including feeding tours going behind the scenes with the zookeepers.  Visit BigBearZoo.com for more details. Big Bear Cycling has scheduled events all month long to get you out on the roads with the wind in your face.   Visit their website at www.bigbearcycling.com for details.   And you can enjoy boating, fishing, swimming, and more on the lake.  It's a great time to book your stay for a week or longer.
Browse all of our Big Bear cabins on this page.  And for more options, be sure to check out our luxury rentals in  Park City,Palm Springs/La Quinta,  Southern California Beaches,  Mammoth Mountain, and  Villa la Estancia in Nuevo Vallarta, Mexico.  Regardless of where you may go, you'll have the confidence of knowing that Five Star Vacation Rentals is working to make your vacation relaxing and memorable.  We value your vacation time, and are working to make it the best for your family.