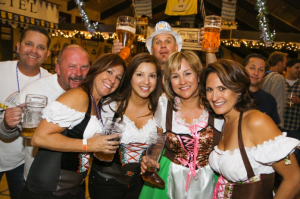 Big Bear's annual Oktoberfest arrives this weekend, and it's a great time to plan a visit to a Five Star vacation rental.  This event attracts visitors from all over, and it's easy to see why. There's plenty of entertainment, great food, shopping, and of course, some of the world's best beers.
The festivities kick off on Saturday, September 10th, and the opening weekend celebrates America's heroes with free admission for all military (past and present), law enforcement, and fire fighters.  The fun continues weekends through the end of October.  If you've never been to Oktoberfest in Big Bear, here's a quick rundown of what you can expect: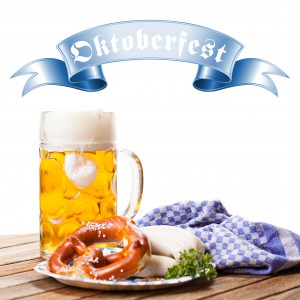 You're going to have a lot of great food choices to make.  Along with the traditionally yummy brats, you'll also enjoy knockwurst, polish sausage, roasted chicken, roast beef, and roast pork, and lots of gravy.  For dessert there's apple strudel, cotton candy, kettle corn, and homemade fudge.  And this is just a small sampling; there's much much more.  Be sure to pack extra insulin.
For the entertainment, you'll want to pack your dancing shoes.  There's plenty of opportunity to jump in and join along. You may even find yourself doing the chicken dance. There are log sawing competitions, and plenty of fun for the kids as well. You can get their faces painted, temporary tattoos, and there's a big bounce house too. Bands direct from Europe will be performing, and Oktoberfest-related souvenirs including beer steins ranging from miniatures to mammoth.
As much fun as you'll have at Oktoberfest, the real star of your visit will be your Five Star Vacation Rental. We specialize in luxury properties, and our  Big Bear cabins are prime examples. You'll be able to relax in style, so your fun at Oktoberfest will be made even more memorable by the luxury you'll enjoy with one of our Big Bear Vacation Rentals.  Check out all our Big Bear properties at this link. You can see lots of great photos and book online as well.
Want to plan a getaway someplace else? We also maintain rentals in  Nuevo Vallarta, Mammoth Mountain, Park City, Southern California Beaches, and La Quinta. No matter what city you are visiting, staying in a Five Star Vacation Rental property will ensure that you experience the absolute best in luxury accommodations. We would be glad to help you plan your getaway to Big Bear or elsewhere, so if you would like more information, you can reach out to us by calling 310-780-3411.