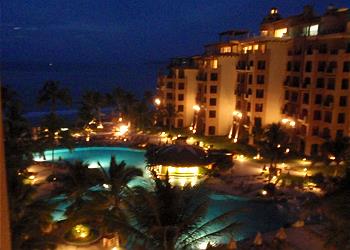 Enjoy Nuevo Vallarta in this luxurious 6th floor villa has a beautiful balcony with a wet bar for you to enjoy the great ocean and resort views. This villa is in a great location at the resort and it is only 50 yards from the beach. Both bedrooms and the living room have large flat screen televisions. The kitchen is fully equipped with everything you need to cook the day's catch. The master bathroom has a huge spa tub and all furnishings are of the highest quality. You will never have problems sleeping here with the soothing sounds of the crashing surf. The beach at Villa la Estancia is amazing, you can walk either direction for miles on end without interruption. The water is usually very safe for swimming and snorkeling as the bay is sandy and you don't have large rocks to worry about.

There are two on-site restaurants, La Casona - The only restaurant in Nuevo Vallarta to feature Kobe and Angus Certified Beef, this fine dining venue offers live entertainment in an air-conditioned dining room and open-air terrace flanked by a wood-burning fireplace and La Parrilla.

With two swim-up bars and shaded terrace seating, this casual poolside spot features ceviche, Mexican favorites like fish tacos, gourmet burgers, sandwiches and salads. There is a full service spa on site. The spa is a 17,000 sq ft facility which features 14 indoor treatment suites, two exclusive VIP treatment suites with private Jacuzzi and shower, a spa retail shop, a full-service beauty salon and a fitness studio.

Those up for the ultimate can enjoy beachfront treatments or therapies provided in-suite. We know you will love this resort in Nuevo Vallarta.