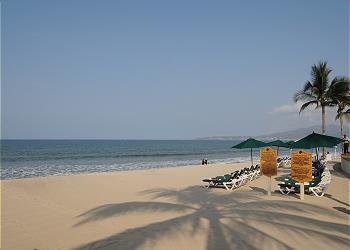 Villa la Estancia offers the best combination of luxury, views, and quality in the Nuevo Vallarta region. Consistently rated the number one resort in the region by , you can count on having a memorable vacation at this location. Villa 3503 offers forever ocean views, gorgeous sunsets, and the relaxing sounds of crashing waves. This 2 bedroom, 3 bath villa offers high ceilings, luxurious furnishings, and modern amenities making it your true home away from home.

There are two on-site restaurants, La Casona - The only restaurant in Nuevo Vallarta to feature Kobe and Angus Certified Beef, this fine dining venue offers live entertainment in an air-conditioned dining room and open-air terrace flanked by a wood-burning fireplace and La Parrilla.

With two swim-up bars and shaded terrace seating, this casual poolside spot features ceviche, Mexican favorites like fish tacos, gourmet burgers, sandwiches and salads. There is a full service spa on site. The spa is a 17,000 sq ft facility which features 14 indoor treatment suites, two exclusive VIP treatment suites with private Jacuzzi and shower, a spa retail shop, a full-service beauty salon and a fitness studio.

Those up for the ultimate can enjoy beachfront treatments or therapies provided i n-suite. We know you will love this resort in Nuevo Vallarta.