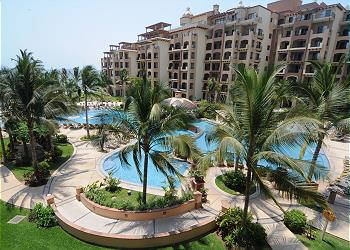 Located on the 3rd floor, this spacious 3 bedroom villa offers a combination of views and space that is perfect for your family vacation. With a flexible floor plan, this can be rented as 1, 2, or 3 bedroom villa. With two master suites, and sleeping for up to 10, this villa is perfect for two families to share. The 3rd bedroom suite offers a private balcony separate from the main terrace.

If you're looking for accommodations for a large group, contact us about our adjacent villas on the 3rd floor. This is perfect for your family reunion, church group, or for the annual company meeting. We can handle 40+ people in our 3rd floor suites, so you can maximize your time with family or friends. Contact us for details and availability.

Villa la Estancia offers two on-site restaurants, La Casona - The only restaurant in Nuevo Vallarta to feature Kobe and Angus Certified Beef, this fine dining venue offers live entertainment in an air-conditioned dining room and open-air terrace flanked by a wood-burning fireplace and La Parrilla.

With two swim-up bars and shaded terrace seating, this casual poolside spot features ceviche, Mexican favorites like fish tacos, gourmet burgers, sandwiches and salads. There is a full service spa on site. The spa is a 17,000 sq ft facility which features 14 indoor treatment suites, two exclusive VIP treatment suites with private Jacuzzi and shower, a spa retail shop, a full-service beauty salon and a fitness studio.

The beach at Villa la Estancia is amazing, you can walk either direction for miles on end without interruption. The water is usually very safe for swimming and snorkeling as the bay is sandy and you don't have large rocks to worry about. Offering plenty of space and privacy, villa 1304 is an amazing place to spend a relaxing vacation.