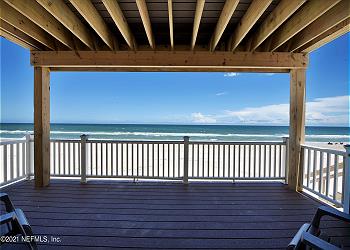 The Florida Oceanfront Beach house is located between Ponte Vedra and St Augustine Florida. The location is a short drive to restaurants, shopping, tours, festivals, golfing, nightlife, water-sports, fishing, sailing, family-friendly activities. This beach house is designed for family vacations, weddings, or events.



You'll love this oceanfront beach house with it's fully stocked oceanfront kitchen, ocean view living area with wet bar, Six spacious bedrooms/bathrooms, and multi level oceanfront balconies overlooking South Ponte Vedra beach. The house features a walkout rooftop patio for sunbathing, cocktails, or events.



The kitchen is on the second floor with an attached balcony overlooking South Ponte Vedra Beach. It has new appliances, settings for 20 guest along with seating capacity for 20. The kitchen are is a spacious area for all to enjoy meals together.



On the first floor there is a large living area with a wet bar for entertainment. This room has an attached ocean side balcony. It's a nice space to gather for an evening of games, movies, and conversation.



You'll enjoy the view of South Ponte Vedra Beach from the ocean side bedrooms, balconies, rooftop patio and main living area.